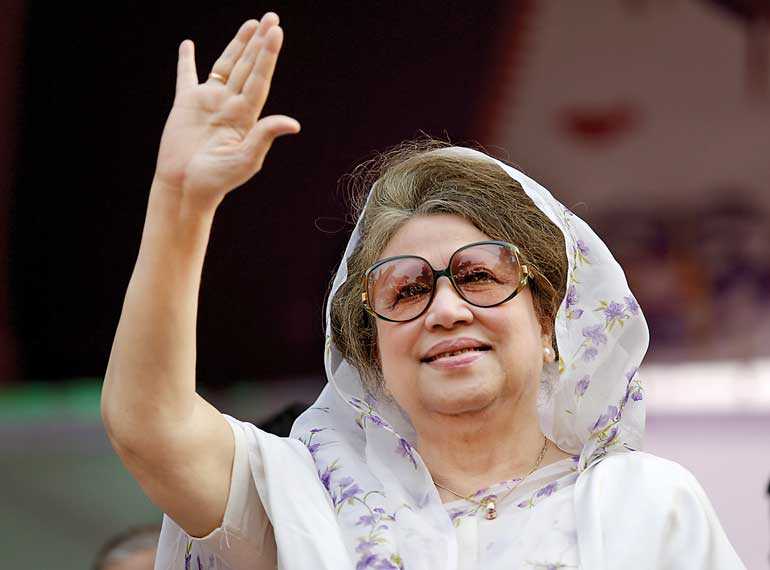 Begum Khaleda Zia - REUTERS/ Files
DHAKA (Reuters) - A Bangladesh court sentenced former prime minister and opposition leader Khaleda Zia to seven years in prison for corruption on Monday, lawyers said, after she was jailed for five years in a separate case in February.

Khaleda's two terms will run concurrently, meaning she will spend an extra two years in jail, and appear to put paid to any chance of contesting general elections in December.

The opposition Bangladesh Nationalist Party (BNP) has been in disarray ahead of the elections after Khaleda was jailed in February for stealing funds for an orphanage.

Earlier this month, court sentenced Khaleda's son and the acting chief of the BNP, Tarique Rahman, who lives in exile in London, to life in jail over a plot to assassinate Prime Minister Sheikh Hasina in 2004.

Khaleda, 72, and three aides were convicted on Monday of misappropriation of 31.5 million taka ($371,550) for a trust when she was last prime minister, from 2001 to 2006, state prosecutors said.

The judge said Khaleda abused her power to raise illegal funds for her personal trust, Mosharraf Hossain, a lawyer for the government, told reporters.

"The court believes she should face strict punishment as an example," he said, quoting the judgment.

The BNP has urged the government to free Khaleda and called for a neutral caretaker government to be put in place before the vote. It called for a nationwide protest on Tuesday, rejecting the judgment as "state-sponsored".