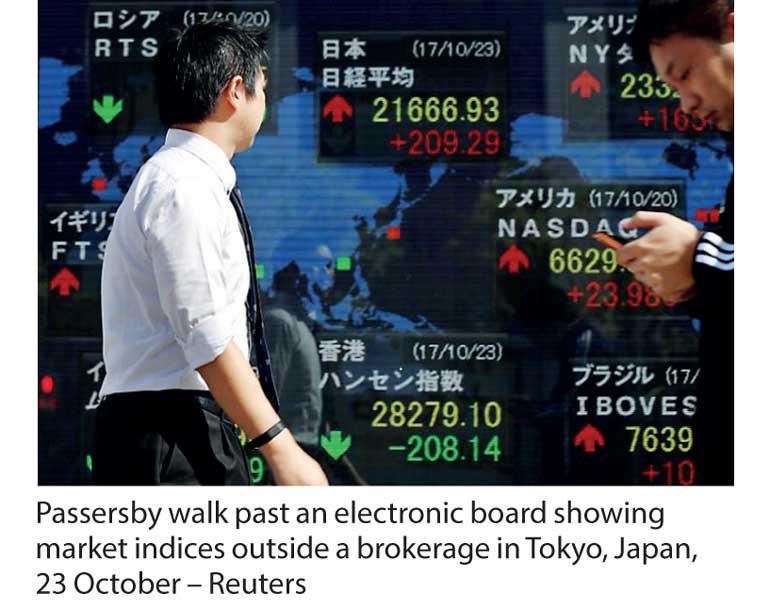 Tokyo (Reuters): Asian shares dipped slightly on Tuesday as investors' rotation out of technology shares took a toll on some of the region's tech heavyweights although hopes of a major tax cut in the United States underpinned risk sentiment.

European shares are seen steady, with spread-betters picking Britain's FTSE and Germany's DAX to be almost flat and France's CAC to edge 0.1% lower.

MSCI's broadest index of Asia-Pacific shares outside Japan was down 0.2%, driven by a fall in technology shares such as Tencent and Alibaba Group Holding.

Japan's Nikkei slipped 0.4%, with semi-conductor related shares leading losses while mainland China's start-up board dropped almost 3% to its lowest level in four months.

"I would say the market is hitting a speed bump after a strong rally so far this year," said Yukino Yamada, senior strategist at Daiwa Securities.

While MSCI's ex-Japan Asia-Pacific index flirted with last month's low, it was still up almost 30% so far this year, and is on course to mark its best year since 2010.

On Wall Street, the benchmark S&P 500 finished lower on Monday after setting a record intraday high earlier as the technology sector, which has led the market's record-setting rally this year, tumbled 1.9%.

The tech index hit a five-week low and was down 4.3% from its record peak hit a week ago though it still remained the best performer of the year with year-to-date gains of 33%.

Investors switched to banks and retailers, which are seen benefiting from the expected corporate tax cuts.

President Donald Trump's goal of slashing taxes on businesses cleared an important hurdle at the weekend when the US Senate narrowly approved the Republican's tax overhaul plan.

The S&P 500 banks index surged 2.3% while battered department store shares also jumped.

"Some high-tech shares' valuations are getting stretched. For the entire market to keep rallying, we needed a sector rotation," said Nobuyuki Kashihara, head of research at Asset Management One.

"On the whole, the world's shares are supported by a synchronised growth in the global economy," he added.

US tax cut optimism supported the dollar, particularly against the yen.

Yet, concerns about the ongoing investigation into contacts between Trump's election campaign and Russia sapped some of the market's enthusiasm.

The dollar fetched 112.48 yen, little changed in Asia after a brief foray to 113.09 on Monday, which was its highest level in more than two weeks.

The euro was steadier at $1.1875, sitting comfortably in its familiar trading range between $1.1810-1.1960, as the common currency was helped by hopes the two major German parties will form a grand coalition.

The British pound stood at $1.3475, off last week's two-month high of $1.3550, after European Commission President Jean-Claude Juncker and British Prime Minister Theresa May failed to reach an agreement on a divorce deal.

The Australian dollar gained as much as 0.8% to a three-week high of $0.7654 following strong economic data and a relaxed tone from the country's central bank on the level of the local currency.

Bitcoin ticked down 0.5% to $11,558, still hovering near its record high of $11,800 set on Sunday.

Oil gained slightly after falling more than 1% on Monday, buoyed by expectations of a drop in U.S. crude stockpiles and after last week's deal between OPEC and other crude producers to extend output curbs

US West Texas Intermediate futures CLc1 traded at $57.55 per barrel, up 0.1% for the day.

International benchmark Brent futures inched up 0.1% to $62.52 a barrel.

Some market players fear the killing of former Yemeni president Ali Abdullah Saleh on Monday may destabilise the impoverished and worn-torn country even further, threatening the safety of a major shipping route through the Strait of Bab al-Mandeb on the Red Sea off the Yemeni coasts.