Wins three awards at Professional and Career Women Awards 2015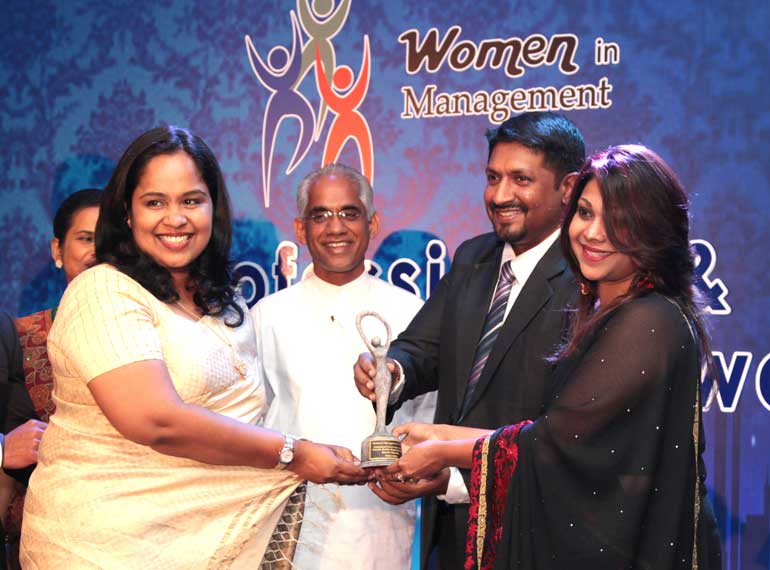 Head of Beauty Categories, Sharmila Bandara (right), and Head of Procurement, Rumal Fernando (left), accepting the 'Best Private Sector Organization for Gender Equality Promotion' award on behalf of Unilever Sri Lanka
Unilever Sri Lanka affirmed its commitment to diversity and inclusion, bagging three awards at the Professional and Career Women Awards 2015, hosted by Women in Management, at a recently held ceremony.

Chairperson Shazia Syed won the award for 'Best International Woman Leadership', whilst the company was recognised as the 'Best Private Sector Company for Gender Equality Promotion'. Head of Beauty Categories Sharmila Bandara, was also recognised, winning the Silver Award for 'Leadership Excellence in Marketing'.

Director Human Resources and Corporate Relations Sameer Nagarajan states, "Unilever Sri Lanka has always been privileged to have many strong female leaders in its midst and we believe that diversity is our license to operate in the future. We are on a continuous journey of creating a simpler, more respectful and flexible work environment for everyone in the company. We believe an inclusive culture benefits all employees because inclusion lets people bring their whole selves to work and those who feel valued and respected are more engaged, giving their best efforts to the organisation."

Having identified that the key to ensuring gender diversity and equality within the organisation is providing the flexibility for employees to be their best selves, both professionally and personally, Unilever Sri Lanka has launched several initiatives to help employees, especially parents, enhance their work/life balance. The company has provided a number of unique solutions to its employees which have taken on new dimensions in supporting working parents.

Speaking on these changes Syed says, "We changed our maternity policy to provide six months of paid maternity leave and maternity and paternity benefits have been extended to adoptive parents as well, to ensure that our mothers and fathers are able to provide the best care for their families. Our in-house crèche facility allows Unilever parents to ensure a safe and healthy environment for our children. Our agile working policy has helped all employees use flexi-working hours and given them the opportunity to work from home when required, thereby allowing them to prioritise and focus on both their professional and personal lives."

These efforts by Unilever Sri Lanka to create a more inclusive workplace, have been reflected in the accolades the company has received in the recent past, including being named the No. 1 Employer of Choice in a nationwide survey conducted by Nielsen, in 2014 and 2015. The company remains committed to continuously strive for new heights as a truly great place to work.