This is another year where the management of Postgraduate Institute of Management (PIM) and the new MBA batch of 2015 combine forces to bring out various talents of the students in a form of a residential workshop, beyond the boundaries of the PIM walls.

The Postgraduate Institute of Management (PIM) is a semi-autonomous body affiliated to the University of Sri Jayewardenepura. It is one of the pioneering providers of MBA, MPA, PhD and equivalent qualification, and it is now widely recognised for high quality management education across Sri Lanka.



At PIM, this residential workshop is considered as a mandatory requirement of the Master in Business Administration (MBA) curriculum in order to provide a different learning culture to the upcoming MBAs with a little bit of fun mixed into it. This fun is structured at the end of the first day, where the morning would be learning of various aspects and the evening would be filled with loads of fun. Every year would have a different theme and the activities revolve around the theme. Coming into the evening fun, the PIM Leadership vested the responsibilities of organising the fun night to the volunteered organising committee of 20 members of the MBA 2015 batch.

This year, Residential Workshop 2015 kicked off on 4 July at Pegasus Reef, Wattala in the form of 'Lights of PIM' that is 'Lumières De PIM' with a red and black colour theme and carried through to 5 July.

As a tradition, the event started with the marching of vibrant PIM faculty followed by the warm welcome by the Chairman of the Organising Committee of Lumieres De PIM.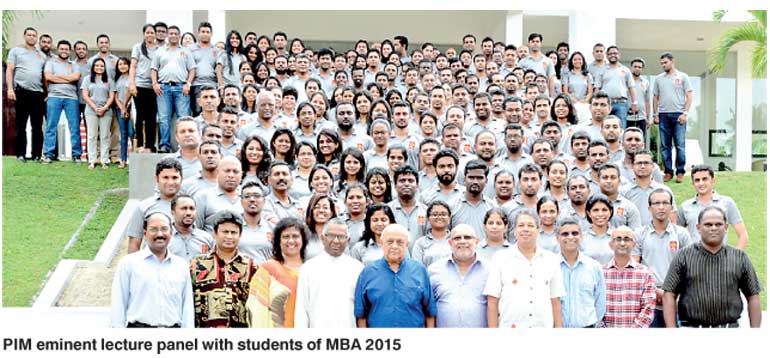 The event was coloured by a number of performers of the MBA 2015 batch in the form of organisers, fund raisers, event managers, resource managers, singers, dancers and actors. To grace the event, there was Trishma Pinto, the professional compere, who connected the dots of all single arts planned very beautifully to paint a colourful event. To add more colour, MBA 2015 sought the participation of Suraj Mapa and his team with 'Spirits' Band to set the moods of the people around the dance floor.

The organising committee, Lumières De PIM owes its success to PIM Director Dr. Ajantha Dharmasiri for the guidance provided and all the sponsors who lighted the 'Lights of PIM' with all their contribution and the immense support.