For the second consecutive year, Sri Lankan journalist Marwaan Macan-Markar was among the winners at the Society of Publishers in Asia (SOPA) awards. The annual event held in Hong Kong in June is the most prestigious in recognising journalistic excellence in the print and digital media across Asia.

The accolade was for a series of stories Macan-Markar wrote about Thailand's political troubles, including the military coup, in 2014 for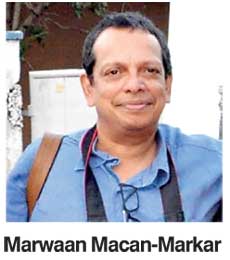 The Edge Review, a Malaysian-based digital news magazine that focuses on Southeast Asian affairs.

The stories were "thoroughly reported, elegantly written and packaged beautifully with graphics to capture the drama," said the panel of judges in a comment for the award under the Explanatory Reporting category.

"The Edge Review made its presence felt in the gold standard of Asian journalism," stated the magazine in its 12 June edition to announce the win. "Our Thailand correspondent Marwaan Macan-Markar took the honours."

This year's SOPA attracted 662 entries for 18 categories. And the international panel of judges were drawn from media veterans and the academia. Some of the winners this year included entries from the Wall Street Journal, Bloomberg, Reuters, the South China Morning Post, the International New York Times and Nikkei Asian Review.

Last year, Macan-Markar was among a team of The Edge Review's journalists who won a SOPA award in the Human Rights Reporting category.

Macan-Markar has been an international correspondent for 16 years, having reported from 15 countries spanning Latin America, Africa and Asia. His dispatches have ranged from ethnic conflicts and political turmoil, natural disasters and climate change and development and poverty to economics and trade, HIV and insect-eating. His first posting as a foreign correspondent was in Mexico City, and he is currently based in Bangkok.

Prior to that, he was the Features Editor of The Sunday Leader and a features writer at the Sunday Times. His stories for the Sri Lankan press were largely from the frontlines of the ethnic conflict in the north and east.