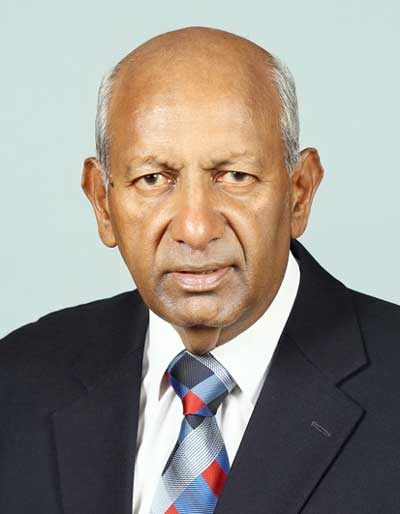 One of Sri Lanka's respected business personalities, Carmart Chairman Senaka Amerasinghe, who is also the Honorary Consul for Austria, took the helm as the Governor of Rotary for the year 2016/17.

This appointment comes in the backdrop of the first Global President being a Sri Lankan, K. Ravindran, where Premier Ranil Wickremesinghe travelled to the Korean capital Seoul where a landmark speech was made on 'The Role of an International NGO in Today's World' that set the stage for Sri Lanka in the world of Rotary.

A product of Royal College Colombo, Amerasinghe started his illustrious career at Ford Rhodes Thronton & Co (KPMG) and thereafter specialised in motor mechanism at Volkswagenwerk, Germany. Joining Carmart Ltd., the agents for Peugeot, he went on to becoming the Chairman of Carmart and has also served since 1970 and currently functions as the Chairman. He has also given leadership as President of the Ceylon Motor Traders Association, Sri Lanka-Indonesia Business Council, Sri Lanka-Italy Friendship Society and Sri Lanka-German Business Council. He is currently Vice President of the Sri Lanka-France Business Council.

Amerasinghe is the Founder member of Sri Lanka Exporters Association and currently a council member of many trade organisations such as the National Chamber of Exporters. He is the Honorary Consul for Austria in Sri Lanka since 1988.

Joining Rotary in 1972 Amerasinghe became the President of the Rotary club of Colombo in 2010-11 and held many positions in the district as Public Relations Chair, Project Chair for various community service projects, District Chairman Service Projects in 2012-13 and District Chairman Community Service 2013-14. He is also a Paul Harris Fellow.

Some of the accolades he has received in his tenure at Rotary include RI Presidential Citation for Balanced Programs promoting Rotary Ideals, Best Community Service Project 'Mahamodara Hospital in Galle,' Outstanding contribution for TRF Permanent Fund, Excellence in Community Service, Promotion of Four Way Test among New Generations, Outstanding promotion of Rotary image. He was awarded the Austrian Decoration of Merit in Gold conferred in 2014 by the Federal President of Austria.

He is married to Rukmani, an Honours Graduate in Economics from University of Peradeniya, and his son Yasendra is the Director/Chief Executive Officer of the company.