Praguna formed in 1998 has now completed 18 years of consultancy services by achieving 355 certificates arguably the highest in south Asia for a compliance related consultancy firm.

It specialises in site related process training to improve quality and productivity by ensuring environmental and social compliance for export industries, service organisations, and tourism and construction sector. It has trained and developed more than 500,000 employees in supply chain compliances and legislative and regulatory requirements in numerous organisations. By specialising in trilingual training, it is the first organisation to train and achieve certification for a large construction organisation from Jaffna in concurrence with national chamber of construction industries.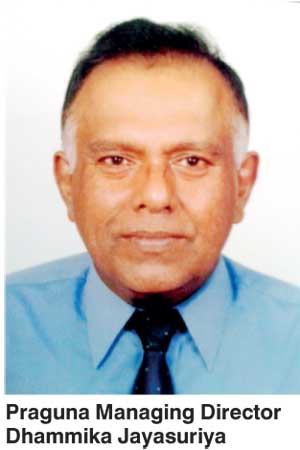 Its branded products and services named Praguna Pragati and Praguna Prawardhana has enabled them to secure work with Indian and Malaysian organisations and 11 joint venture programs have been completed as at February.

Praguna has very senior level consultants who have held prestigious positions in environmental energy, biodiversity from the private and semi government sector in industrial related positions.

Praguna has been working with 'UL' for the last 14 years as the preferred partner for 'UL' mark audits thereby improving the export potentials of the country and has been nominated as the best services provider 'UL' brand in South Asia. Its work with 'UL' USA helps the country to save valuable foreign exchange if international auditors were hired from overseas in addition to bringing in valuable foreign exchange by way of audit fees and close to 35 Sri Lankan manufacturing industries exporting products to USA have received the services and guidance from Praguna Director Operations Bandula Sumith.

Praguna has won two national awards by winning merit award from FCCISL and also winning NCE bronze award for large category service providers.

Praguna Managing Director Dhammika Jayasuriya and Director Operation T.B.B. Sumith are key contributors in having trained school leavers in process management for compliance systems, during the last 18 years. Praguna has been a path finder for employment in the corporate sector for over 50 young persons who are now holding important position in the private sector.