The Association of Chartered Certified Accountants (ACCA), which is the global body for professional accountants, recently held its prize winners and affiliates awards ceremony at the Cinnamon Grand Colombo, to recognise and award students who have excelled in their exams in December 2014 and June 2015.

Speaking at the function, the global council president of ACCA Datuk Alexandra Chin stated that being an ACCA prize winner was a great achievement and the letters ACCA after one's name shows the world that they have gained one of the most recognised qualifications with the highest technical standards and have mastered the relevant practical experience that employers the world over seek.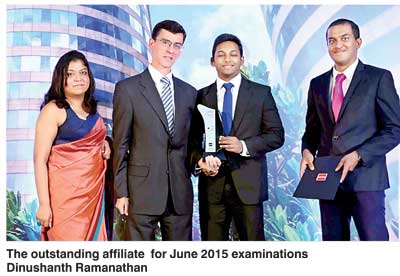 The chief guest at the occasion British High Commissioner for Sri Lanka and Maldives James Dauris congratulated the prize winners and stated that they could use their knowledge to help Sri Lankan businesses to prosper and to attract investments that will enhance the country's reputation.

ACCA President of Member Network Panel Sri Lanka Dhanushka Samarasinghe added to these comments and said that ACCA is currently positioned as one of the foremost professional bodies for finance and is also one of the most sought after by employers due to the high standards of their examinations. He encouraged all the prize winners to uphold the highest ethical standards in all their professional activities, which is one of the key pillars upon which the ACCA qualification is founded.

The outstanding affiliates this year was bagged by Dialog Axiata Commercial Analyst Devruwan Fernando for the December 2014 examinations whilst the outstanding award for the June 2015 examinations was carried away by Dinushanth Ramanathan, currently working as an analyst at Copal Amba. Both awards were sponsored by Copal Amba .

The Skills Level awards for December 2014 and June 2015 were sponsored by the Imperial College and Mercury Institute of Management respectively. Awards for Foundations in Accountancy for December 2014 and June 2015 were awarded by the Excellence Collage of Business. The Professional level examinations for December 2014 were awarded by Neptune Education, whilst the awards in the same category for June 2015 were awarded by KAIMS Business School. Prize winners from the Maldives for December 2014 and June 2015 also received their awards at this occasion. In addition over 100 affiliates received prizes for their high achievements.

ACCA Sri Lanka Head Nilusha Ranasingha commented on the achievements by saying that this year's prize winners have done Sri Lanka proud and have helped reinforce the truth that ACCA has continued to be amongst the best in the world, hence the reason that there is a high demand for ACCA professionals by global employers.