Chairman's Award, the highest honour at Ceylon Tobacco Company PLC (CTC) was awarded to Nishantha Perera, Engineering Executive (Electronics). The award recognises outstanding personal contribution to the growth and development of the company during the previous year.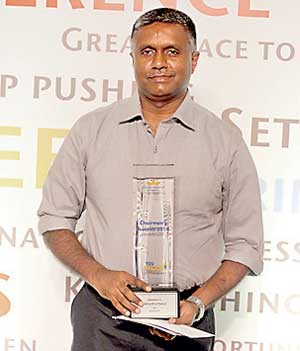 "I am very honoured to have received the award," said Perera. "The award is a rare opportunity in one's career at CTC. I am very thankful to my team, without whom, this achievement would have not been possible," he added.

CTC's engineering team, led by Nishantha managed a Technology Upgrade project on a machine critical to CTC's operation process. The upgrade, which would have led to a significant 'down-time' if done outside of Sri Lanka, was carried out locally by Nishantha and the team within a very short span of time. Their initiative resulted in saving not only time but also cost to the company while improving the overall efficiency of the operation.

CTC Managing Director and Chief Executive Officer Felicio Ferraz said, "The project was a challenging one that posed some risk to the company's supply chain. However, I had no doubt in the capability of our Engineering team. I would like to commend Nishantha and the team for their dedication and never give up attitude."

At CTC, people are the key factor behind the successful strategy execution and the company makes every effort to recognise and celebrate the achievements of its employees continuously.