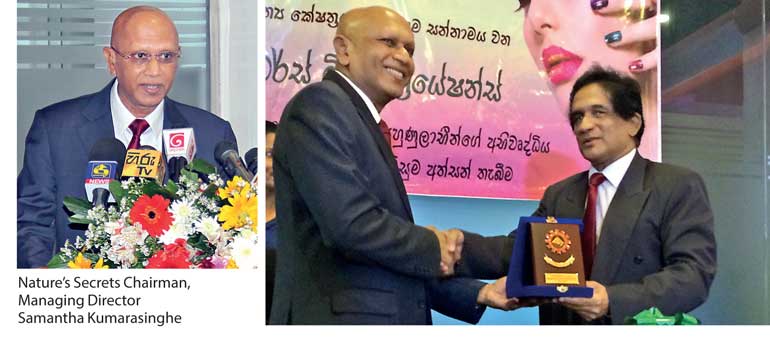 Nature's Secrets, Sri Lanka's No. 1 herbal cosmetics brand, has implemented a series of corporate social responsibility projects to contribute to the country's economic development. One such project is the brand's involvement in conducting a number of training programs for the country's youth with the objective of enhancing their employability skills.

Over the past years, Nature's Secrets has been supplying free of charge all the beauty products required by the state owned Sri Lanka Vocational Training Authority (VTA) for their beauty culture courses held island wide. Thus, with the partnership of the VTA, Nature's Secrets has been able to provide a helping hand to thousands of youth through skills training to enable them to enter the competitive business world.

For the 13th consecutive year Nature's Secrets has tied up with the Sri Lanka Vocational Training Authority to support yet another series of training programs. In addition, Nature's Secrets offers valuable scholarships to the beauty instructors of VTA, enabling them to gain international exposure. The latest agreement in relation to this was signed on 20 April, at Sri Lanka Vocational Training Authority headquarters situated in Narahenpita by its Chairman Major General Gamini Hettiarachchi and Nature's Secrets Chairman/Managing Director Samantha Kumarasinghe.

Nature's Secrets believes that it is their responsibility to participate in such activities and motivate the youth under the slogan 'I can' so that our youth can in turn contribute to the country's prosperity. Nature's Secrets is the first and largest herbal cosmetics manufacturer to produce according to internationally recognised GMP and ISO quality standards. All the products, which are of international standard, are produced in its state of the art factory equipped with the latest technology.

Nature's Secrets has created a 13 acre medicinal plant garden around its factory where more than five hundred rare herbal medicinal plants are preserved, making it an extremely unique facility in the world. Nature's Secrets is also the only private organisation to establish an in-house Plant Research Centre where scientists exclusively carry out research on Sri Lanka's herbal medicinal plants. Complementing the Plant Research Centre, Nature's Secrets has also established a tissue culture facility where rare plants are propagated and distributed to farmers and the public to preserve them for future generations.

A pioneer in Green initiatives, Nature's Secrets is the first and only cosmetics company to win the Gold National Green Award, Sri Lanka's highest Green award. Nature's Secrets has launched a book called 'A Collection of Medicinal Plants of Sri Lanka' featuring 350 medicinal plants along with a rich reference section and a glossary. Today Nature's Secrets is exported to countries worldwide and the company is unwaveringly working towards its goal of creating a global brand of cosmetics from Sri Lanka by the year 2020.

Cosmetic sector is a fast growing field that makes more job and entrepreneur opportunities. Nature's Secrets wishes best of luck to the youth who are taking their first steps with Vocational Training Authority.