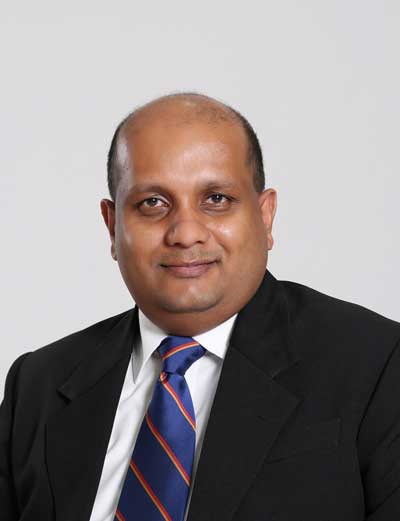 Organising Committee Chairman Prasad Piyadigama
IPM Sri Lanka has organised the popular The Great HR Quiz 2015 for the second consecutive year with objectives centred on broad knowledge sharing, creating opportunities to research on best HR practices and putting together a large HR audience for positive interaction within a competitive spirit.

The quiz will be staged as a 'Live Table Quiz' and will be held on Friday 13 November at the Galadari Hotel, Colombo from 3 p.m. onwards. 50 teams each with five members will vie for the championship trophy.

"The Great HR Quiz is one of the main activities on our activity calendar. It is an ideal opportunity for HR professionals and non-HR managers alike to show their prowess at displaying their knowledge and understanding of human resources management concepts and principles. The live table format of the quiz has been enthusiastically received by participants and encourages fast and quick thinking," said IPM Sri Lanka President Rohitha Amarapala.

The competition is open to all private and public sector organisations under the categories of Banking/Finance/Insurance, IT/Software/Telecom/BPO, Travel and Hospitality/Leisure, Apparel and Textile, Manufacturing/FMCG, Food and Beverages with an additional 'Special category'. Each organisation can nominate a maximum of two teams, each supported by separate registration forms. The quiz will be conducted in English and will comprise of five rounds. The first two rounds will test the knowledge of the teams on Human Resource Management which will be followed by rounds on Organisational Behaviour and Current Affairs and Sports. The final round will be on Contemporary Human Resources Management. Each team will be allocated a table with an electronic response device with which answers to the quiz need to be selected by each team in real time.

"We request all corporate entities both in the private and public sector to participate in this unique and informative quiz. The enthusiasm shown by participants in previous years is indeed a testament to the successful nature of the Great HR Quiz program," said the Great HR Quiz 2015 Organising Committee Chairman and Holcim Lanka Ltd. HR Vice President Prasad Piyadigama.

The champions of The Great HR Quiz 2015 will receive Rs. 100,000 in prize money, the Champions trophy, medals and certificates. The 1st Runner up will receive Rs. 75,000 in prize money, The Great HR Quiz 2015 Runners-up trophy, medals and certificates while the 2nd Runner up will receive Rs. 50,000 in prize money, medals and certificates. Each participant will be awarded a certificate of participation. Category winners in each sector will receive a trophy, medals and certificates. Application for registration on the prescribed form available from IPM Sri Lanka will close on 24 October.

The distinguished panel of judges for the Great HR Quiz 2015 will comprise of National Human Resource Development Council of Sri Lanka Chairman Dinesh Weerakkody, University of Sri Jayewardenepura Professor of Management, Postgraduate Institute of Management Director and IPM Sri Lanka Council Member Professor Ajantha Dharmasiri and Employers Federation of Ceylon Director General Kanishka Weerasinghe. Experienced quiz master, IPM Council Member and Past President Chrisantha Obeyesekere will be the Quiz Master.

IPM Sri Lanka keeps pace with the new trends and concepts in HR by engaging continuously with the business community to share experiences, thoughts and insights in order to enrich and enhance the HR profession. It actively encourages and promotes members' participation at international conferences and forums to provide exposure, build networks and conduct research into areas of interest to the HR profession in Sri Lanka.

IPM was founded in 1959 and was subsequently incorporated by an Act of Parliament in 1976. IPM is affiliated to the Asia Pacific Foundation of Human Resources Management and also to the World Federation of People Management Association. IPM, being a professional institute is also a constituent member of the Organisation of Professional Associations (OPA) Sri Lanka. Currently IPM comprises of over 900 Professional Members who serve in both public and private organisations.