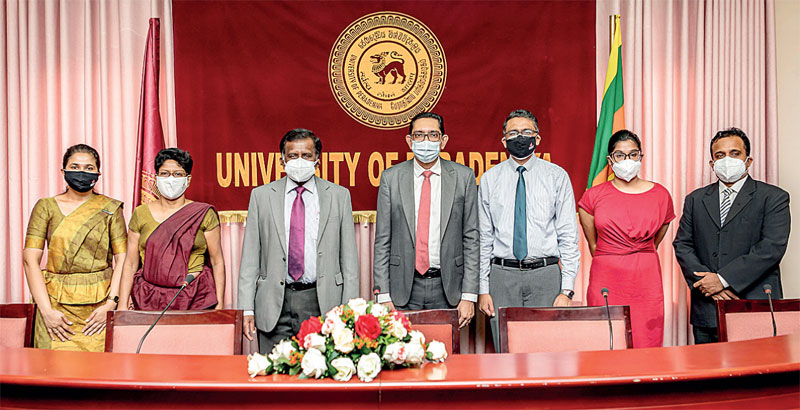 From left: Peradeniya University Head of Department of Human Resource Management W.A. Edirisooriya, Acting Registrar Jayantha Dharmasiri, Vice- Chancellor Professor M.D. Lamawansa, hSenid Business Solutions CEO Sampath Jayasundara, Peradeniya University Dean of Faculty of Management Prof. E.M.A.S.B. Ekanayake, hSenid Business Solutions Head of Marketing & Communications Vichalya Wijesuriya, Head of Support & Enterprise Delivery Mahinda Pathirana
---
Initiative towards empowering future global talent
---
hSenid Business Solutions, a leading human resources solutions provider in Sri Lanka, signed a partnership with the University of Peradeniya, a prestigious State higher education institution. The signing of such agreements has been a continuous effort by hSenid, in partnership with State universities such as Sri Jayawardenapura, Colombo, Kelaniya and Moratuwa, in its initiative towards building globally competitive local talent.

This partnership further supplements the scope of the Human Resource (HR) programs provided by the university, adding strategic value to the study by capturing the essence of HRIS, encapsulating the complete automation of HR with Analytics and Artificial Intelligence-driven HR Tech advancements. A partnership aimed at grooming future minds in the pursuit of building a strong business landscape in Sri Lanka that moves ahead globally with technology.

University of Peradeniya Vice Chancellor Professor M.D. Lamawansa said: "Signing this MoU with hSenid Business Solutions, is an important milestone for us at the University. The University of Peradeniya, which is globally recognised, provides high-end teaching programs to both undergraduate and postgraduate levels, in relation to Human Resource Management. And I am sure that the quality of these programs is to be enhanced with the partnership that we have established today." The University of Peradeniya is one of the oldest, top State universities of Sri Lanka, ranked among the world's top 500 universities for the third consecutive year (Times Higher Education World Ranking), with over nine faculties supporting world class qualifications in undergraduate and postgraduate studies.

Striving to keep up as an indigenous multinational, hSenid Business Solutions takes the responsibility of taking care of over 1,000,000 users in 1,300 organisations across over 20 industries in over 40 countries and operates from Australia, Bangladesh, India, Kenya, Singapore and Sri Lanka.

"We are extremely happy to provide students the opportunity to associate with the system and get hands-on experience, before entering the corporate culture. We believe this provides the holistic education needed apart from the theoretical knowledge gained through the curriculum," said hSenid Business Solutions CEO Sampath Jayasundara.

hSenid specialises not only in HRIS but also caters to a wide spectrum of HR needs with Human Resource Outsourcing, and Employee Tracking Solutions and Access Control. With the constant expansion in business needs and challenging situations, hSenid understood that an HR solution has the potential to cater to multiple avenues and provide the opportunity for HR departments to focus on more strategic requirements. HR requirements were beyond HR itself and entailed the need for a network where businesses worked together to provide value-added services to support customers to accelerate their journey. Understanding this business need, hSenid launched PeoplesHR Marketplace enriched with a business-to-business-to-consumer model (B2B2C) that adds to the latest addition to the hSenid portfolio. PeoplesHR Marketplace is a one-stop-shop for all HR-related needs and a platform that consists of multiple business solutions and extended HR services that complement and add value to hSenid's HRIS platform, PeoplesHR.