This year's CIMA Business Leaders Summit themed 'Future Defined' will feature one of the pioneers in the Islamic banking sector – Akmal Hanuk. His presentation on 17 June titled 'From Greed to Governance' will focus on how governance affects the overall performance of an organisation.

Akmal will deliberate on integrating i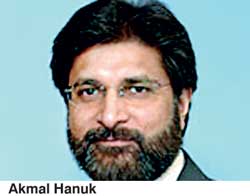 ntegrating economic, social and environment performance in financial reporting through a 'balanced score card' approach. He will cite Islamic finance – which has accountability, responsibility, fairness and justice as the core fundamental elements – as one of the viable alternatives to the current financial system. His presentation will use case studies of how the collapse of ethics has led to financial crisis in many organisations worldwide.

The Global Financial Crisis is now widely acknowledged to be the most severe economic downturn since the 1930s. It is unique not only in its gravity and scope, but also in its underlying causes and wider social, political and economic implications. The deterioration in the values and moral standards of individuals, organisations and societies have opened up new intellectual discourse to reflect on the Moral and Ethical standards as practiced by society in general, and the corporate sector in particular.

Corporate governance encompasses commitment to values and to ethical business conduct to maximise shareholder values on a sustainable basis, while ensuring fairness to all stakeholders including customers, employees, investors, vendors, Government and society at large.

Corporate governance is the system by which companies are directed and managed. It influences how the objectives of the company are set and achieved, how risk is monitored and assessed and how performance is optimised. Sound corporate governance is therefore critical to enhance and retain the development of any organisation.

Akmal is the Founder and CEO of the Islamic Banking and Finance Centre (IBFC), UK. IBFC works in collaboration with the leading universities, academic and financial institutions worldwide. He is an experienced entrepreneur, and has set up businesses in both developing and emerging markets. His major area of interest is the importance of maintaining standards and ethics in the financial and corporate sector, highlighting the ethical standards in Islamic finance.

He is also Chair and Independent Member of the Standards and Ethics Committee – Cardiff County Council, Wales UK; a member of Working Committee on National Occupational Standards for Islamic Finance, Financial Skills Partnership (formerly FSSC – UK); Wales Islamic Finance Forum; Ethical Finance Group – Wales; UKIFS – ETQ Committee on Islamic Finance; The Worshipful Company of International Bankers; and Muslim Council of Britain – Economic Committee/Islamic Finance Expert Group.

The CIMA Business Leaders Summit will be ceremoniously inaugurated on 16 June, followed by the intellectual connect on 17 June. Seven world renowned speakers will share their knowledge and experience from their respective fields, revolving around the conference theme 'Future Defined'.