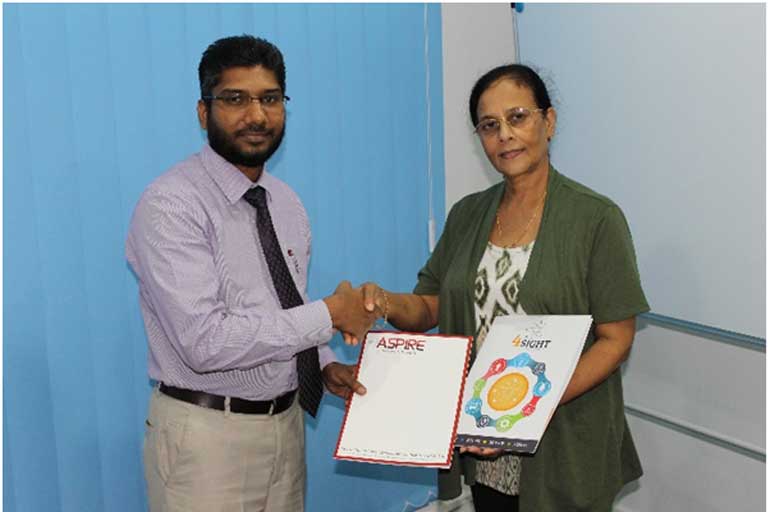 4Sight Consulting Lead Trainer Hussain Buhary (left) and International Talent Development Institute Director/General Manager Mabel Kate Lowe
Text and pic by Ashraff

A. Samad

International Talent Development Institute Ltd., widely known as ASPIRE, is collaborating with 4sight Consulting to develop and deliver training solutions for the aviation and hospitality industry. A Memorandum of Understanding (MOU) signing ceremony was held at the 4sight Consulting Colombo office on 20 August to mark this collaboration.

The MOU reaffirms the objectives of 4sight and ASPIRE to collaboratively provide training solutions in line with aviation management, hospitality management, and travel & tourism management to the students and corporate segments of aspire.

"We are excited about this joint endeavour with Aspire. 4sight and ASPIRE have individually played an integral role in providing training solutions, but together we aim to change the future of Sri Lanka's youth by providing this incredible learning platform, and we can't wait to see the results," said Hussain Buhary, founder and lead trainer at 4sight Consulting.

"ASPIRE has proven track on Well Trained Professional sent into the international arena during the past five years of its training young adults in the service industry. We look forward to working with 4Sight to reach heights which are yet to conquer," said Mabel Kate Lowe, the Director/General Manager.

4sight Consulting is a new age corporate training platform with a diverse collection of international and local resource personnel and client base. It has a key focus on skill development, executive coaching, strategic management oriented think tank, and setting up knowledge symposiums. 4sight's key expertise are along the lines of leadership, personal development, corporate development, technical skills, train the trainer, and entrepreneurship.

Aspire, International Talent Development Institute, is the only BOI (Board of Investment, Sri Lanka) approved training centre in Sri Lanka devoted to escalate the talents of the youth on an extensive range of service industry. It is not just a means of realising youth's lifelong ambitions; it is their ticket to the world ranks.

Aspire opened its doors of opportunity in September 2009 to the world. The ambitious youth who are zealous of meeting the demands of sharpening up their talents and career skills now have a new haven. ASPIRE converges various disciplines under one umbrella to impart superior training in the field of aviation management, hospitality management and travel and tourism management.