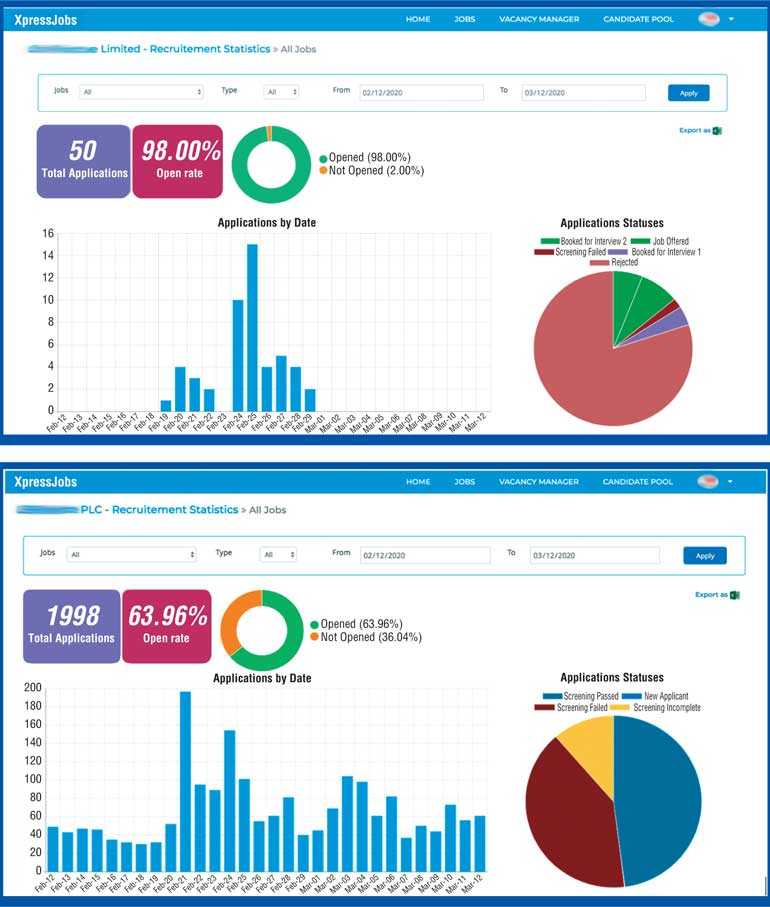 ---
With so much emphasis on using data to make efficient decisions, XpressJobs created a dashboard that will help HR managers and executives understand their recruiting numbers.

XpressJobs, a recruitment services company that creates innovative tech-based solutions to solve recruitment problems, built an all-encompassing dashboard to complement their existing job portal. This dashboard allows HR managers to get analytics on valuable data on all applications they receive via the XpressJobs job portal. Analytics include the number of CVs that the company received, number of CVs that were opened by the HR team, CVs that were eligible for the job, how many applicants passed or failed the mandatory questionnaires, how many applicants booked for an interview and so on.

"I've seen the way data can change the way we function. When we sit with our clients and go through their data to get a better picture of what happens, it isn't that the ideal candidate hasn't applied, but the client just didn't notice them," says XpressJobs COO Dr. Oshadie Kirale. The problem is that most organisations are unable to go through the large number of CVs that they receive. A large organisation of up to 4,000 employees would get up to 2,000 CVs per month out of which only 200 or so get shortlisted selected even though at least 400 are eligible. This means that 200 potential candidates who would be valuable assets to the organisation go unnoticed.

"There is no direct way HR managers get feedback on their teams' performance. We've seen many companies where HR teams say that they didn't get CVs but when we check the system, that's not the case," added Oshadie. Not only does this show statistics, but HR managers are also able to see the performance of their HR teams.

The dashboard displays all this data in palatable charts and graphics that anyone can understand. Most companies also don't invest in Human Resources but only in marketing. However, what they fail to realise is that without the right people pushing them forward, their business isn't going to achieve its fullest potential. Some companies are also reluctant to try new things which can stop innovation-driven progress.

"Having these numbers help target the right candidate. It helps managers understand if they get more leads by asking for CVs or using our CV-less system. You can even learn which day of the week to post the job application to get maximum exposure. We want companies to not recruit blindly but really get to the bottom of why they struggle to hire," says Oshadie who's all for data-driven decision making in HR requirement and championing the cause of improving recruitment beyond standard job portals.

As an innovative tech-based problem solver, XpressJobs has been in operation for over four years. Their solutions provide recruiters with many features such as a filtering system that allows employers to accurately assess eligible candidates, a CV-less application system specially tailored for organisations who are seeking out blue colour workers, SMS alerts to make interviews more efficient and video job advertisements. This dashboard has been introduced to the 4,000 clients working with XpressJobs at the moment such as HSBC, Keells, Softlogic, Dialog, Hayleys and Hemas, etc. XpressJobs is the first among recruitment portals in Sri Lanka to enable their clients to use statistics in real-time.