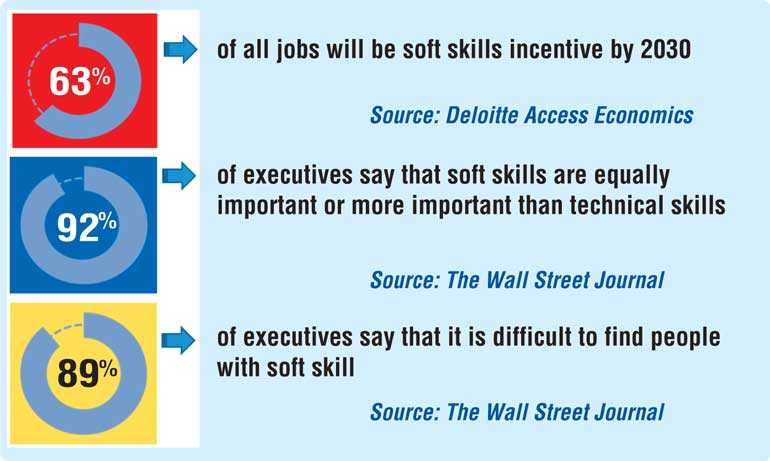 By Sanjaya Pinidiya
In today's workforce there is a widespread belief, that personal 'soft skills' have become increasingly valued by employers. While earlier it was accepted that organisations traditionally hired employees for their technical or functional skills, today employers place greater emphasis on less tangible qualities such as; good communication skills, cooperativeness, flexibility and a positive attitude.

Is this factual? Are employers leaning towards appreciating the values of interpersonal skills, leadership and communication skills, when compared to other competencies such as; statistical analysing or cyber security, etc.

A recent study done by Professors from University of Michigan, Harvard and Boston College are of the view that proper soft skills training has a positive impact in a workplace outcome such as; productivity, retention, job satisfaction and most importantly professionalism. The ultimate benefits are showcased in an increased return on employer investment and leadership development in a sustainable way.

A great start to initiate this unique skill development, would be to focus on our own young generation who seek employment in the corporate world and Government services. We hear constant criticism about the service sector especially in the Government and interestingly sometimes in the corporate world, including banking. A skill set in particular; listening, collaboration, presenting ideas, following ethics and communicating with teams and customers is highlighted as an invaluable asset.

A well-developed personality, with strong soft skills could ensure a healthy work environment; a vital attribute for any organisation in an increasingly competitive world.
What are soft skills and why are they so important in today's world?
Soft skills relate to intangible qualities and are often an inherent part of one's personality. Soft skills which bring about character traits and qualities are; Personality development with effective interaction with others, Attracting and retaining clients, Honing abilities to resolve conflicts effectively, Effective networking abilities, Etiquette awareness, Ability to handle projects more smoothly and effectively, Capitalising on strengths, Engaging with passion instead of weaknesses and through it all gaining confidence – these all are invaluable traits in today's business world.

For those who need to develop such skills in employees, an ideal first step towards personal development, would be to identify and acknowledge the areas in your organisation, which need improvement. This can easily be done through reflection and self-assessment – it's an evaluation of your business performance insufficiencies or through feedback.

Because soft skills encompass a fairly a large category, there are many ways to enhance these skills. Consider having a good mentor for your staff who can provide constructive feedback and model appropriate skills. If your requirement is on improving communication, then courses in subjects such as public speaking and effective presentation skills will be very useful.

Post awareness will require creating a plan of action for progress that aligns with and supports your business plan.
Technical vs. Soft Skills
Simply put, technical skills are relatively easy to manifest, such as ones used in particular jobs or cluster of jobs. However on the other hand, skills which are transferable, employable and generic including, personal competencies are what one would use in a wide variety of situations in today's world.

A recently conducted survey done by the Wall Street Journal revealed that today's corporate world would look for the attributes mentioned below rather than direct technical competencies in fresh graduates. These include; Effective communication, Adoptability – working with different teams, Embracing change, Quick learners, Taking initiatives, an Open and positive mind set, Computer literacy and presentation skills, Well-versed in general Knowledge including world affairs and have a Proper dress sense, be groomed individuals with business etiquette.

In my view, the above skill set requirements are also applicable to all our Sri Lankan youth and working professionals. We need to ask ourselves, do our teams carry these skills? Can they be improved? Will it result in a significant impact for the organisation?

In conclusion, although it may seem deceptively simple, and we think that we carry these values, we all need a little bit of tweaking in our professional life. After all, the mainstream of soft skills is bolstered by enthusiasm, positivity and confidence.
(The writer is a corporate trainer and a banking consultant. He counts over 25 years of experience in the corporate world and global banking industry and can be reached via mail sanjaya.pinidiya@gmail.com.)