---
By Randima Attygalle

The precision of the brick-laying of the Jethawanaramaya stupa in Anuradhapura which is among the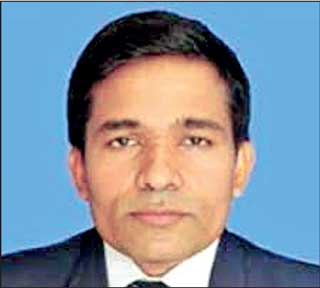 TVEC Deputy Director General

Dr. Janaka Jayalath
largest stupas in the world with over 90 million baked bricks, is an architectural wonder. The irrigation technology of the Parakrama Samudra and the water harvesting mechanism of Sigiriya's fountains speak for the inherent skill of the ancient Lankan. With only the inherited skill and informally acquired knowledge being understudies of 'seniors', our masons, carpenters, cooks, welders, tailors, cinnamon peelers, tea pluckers and many more become skilled partners in the national economy with no paper qualification endorsing their talents.

The Tertiary and Vocational Education Commission (TVEC) initiated a National Vocational Qualification (NVQ) system in 2005 to give recognition to those who opt out of the conventional education system and pursue technical and vocational paths. NVQ is a nationally recognised certificate that confirms a person's skills within the respective NVQ level of his/her occupation. The NVQ framework entails seven levels of qualifications. NVQ also provides national and international recognition to qualifications issued by numerous technical and vocational education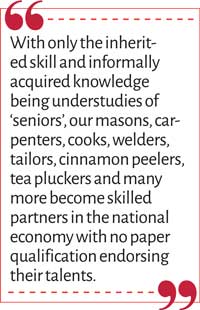 institutions in the country. Today NVQ is available for more than 500 vocations.

In a bid to give a fillip to many jobs in the formal and informal sector, TVEC has launched a flexible learning model (FLM) for a number of skills. "Today NVQ is offered for 500 vocations and there are several modules within each of those, notching up to about 10,000 individual modules in total. The flexible learning model allows a paper qualification for many sub-skills coming under the purview of NVQ Level 1 to 4. For example, for a person who does only brick-laying in masonry or someone who fixes buttons in the apparel industry or automobile mechanic who wants to learn hybrid maintenance, there are job-specific modules under this scheme," explains TVEC Deputy Director General Dr. Janaka Jayalath.

This latest scheme which validates local skill is the latest to join TVEC's portfolio of such ambitious moves including Recognition of Prior Learning (RPL) and the Skills Passport supported by the International Labour Organization (ILO) and Employers Federation of Ceylon (EFC).

The flexible learning mode supported by the Asian Development Bank (ADB) under their 'Skills Sector Enhancement Program' offers many benefits to those who are in the informal job market, points out TVEC's Deputy DG further. "There are many sub-skilled individuals who cannot afford a paper qualification given the time and the cost. While it would take about seven months for an entire NVQ level to be completed covering all the modules it entails, the flexible learning mode allows them to select a very job-specific module or a few modules which they can complete within a matter of a week of a few weeks."

Upon the completion of modular training, participants are offered a micro-credential called a 'Record of Achievement' (RoA) issued by TVEC. The certificate will not only enhance the integrity of labour and mobility of skills both within and outside of the country but it will also help individuals earn a better salary. Enhancing the skills of the workforce, especially those in the informal sector is crucial if we are to transform Sri Lanka as a destination for FDI, points out Dr. Jayalath. "There is a sophisticated job market available now especially for narrow-skilled jobs and this intervention will give it more muscle."

Despite the contribution to the national economy, the informal sector is not being recognised. The informal sector represents an important segment of the economy and the labour market in many countries, especially developing countries. As Sri Lanka Labour Force Survey 2019 notes, 'Measurement of the informal sector is important in its own right as well as contributing towards exhaustive estimates of GDP. Further, the informal sector plays a major role in employment creation, production and income generation.'

In general, the agriculture sector in developing countries is largely found within the informal sector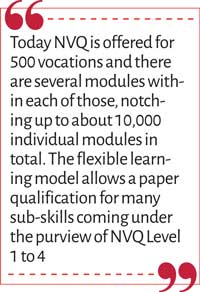 employment. According to the Sri Lanka Labour Force Survey 2019, out of the major industry groups, 89.0% of total agricultural employment is in the informal sector. The second highest percentage of 75.4 consists of construction, electricity and air conditioning supply, water supply, sewerage, waste management and remediation activities.

Aligned with the sizeable contribution of the skill market in the informal sector, the flexible NVQ learning initiative enables many modules for sub-skills in the food (preparation of salads/appetisers/snacks), agriculture (tractor operators, etc.), construction (fabrication and installation of doors), manufacturing (fabric designing), automobile (interior cleaning of motor vehicles, etc.), and many more sectors.

Especially in a backdrop of an unprecedented economic crisis, flexible learning is a win-win, says TVEC's DDG. "Unlike completing an entire NVQ level, this kind of selected-module learning is more affordable for candidates at a time like this. Successful candidates after the assessment will be awarded unit qualification or 'nano-qualification' which is also referred to as 'micro credentials' internationally. Moreover, it entails all other benefits any other NVQ qualification offers including acceptability and on-line verification by employers." TVEC-registered centres across the island facilitate this flexible learning facility and candidates can either visit the nearest centre or obtain all necessary information on the available modules through TVEC website (www.tvec.gov.lk) or through the NVQ circular No. 3 of 2020 on Regulations and Guidelines for Issuing Record of Achievement (RoA) through Modular Based Training Programs in Flexible Learning Mode.

As a means of allowing the migrant Sri Lankan labour force to obtain NVQ through distance learning, TVEC is soon to launch a pilot project with the selected Sri Lankan migrant destinations. "Our pilot project will focus on those who are employed as house keepers and in the construction sector. Hopefully we will be able to extend this to several other areas as well, so that our migrant workforce which is the lifeblood of our foreign exchange remittances is afforded an acceptable qualification to validate their skills," Dr. Jayalath notes.