Sampath B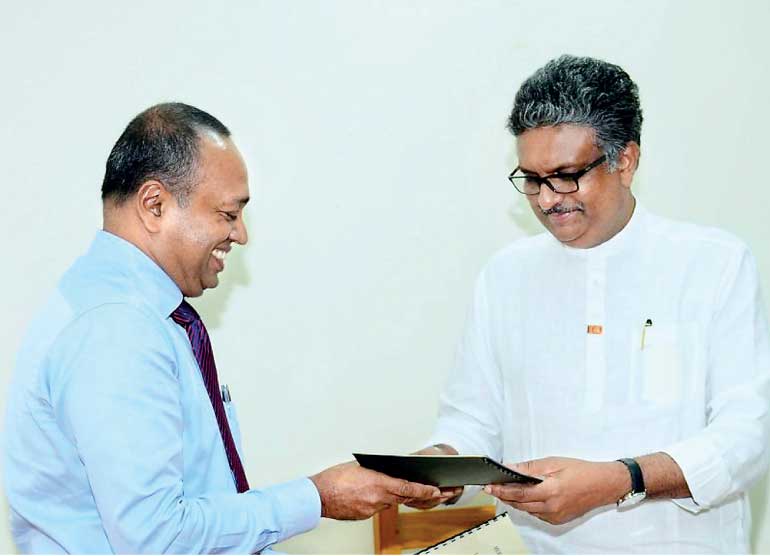 ank PlcHuman ResourcesAssistant General ManagerLalith Weragoda (left) exchanging the MOU with University of Sri Jayewardenepura Vice ChancellorProf. Sampath Amaratunge(right)
Initiative to forge stronger relationship between industry and academia
Sampath Bank, one of the nation's most innovative banks, recently entered into a Memorandum of Understanding (MOU) with the Faculty of Graduate Studies at the University of Sri Jayewardenepura, enabling both organisations to work towards the betterment of financial education in the country.

The MOU was signed byUniversity of Sri Jayewardenepura Vice Chancellor Prof. Sampath Amaratungeand Sampath Bank PlcHuman Resources Assistant General Manager Lalith Weragoda.

The five-year arrangement will enable both parties to tap into the expertise and wealth of knowledge of the other which will reap untold rewards that will ultimately benefit the nation.Public-private partnerships like this create efficiencies, reduce costsand spark innovation.

It has widely been acknowledged that public-private partnerships are the path forward for Sri Lanka's development and will help the country attract more investment that will yield greater benefits.

"To make advances in specialised fields that will ultimately make significant changes in this world it is important to forge strong, symbiotic partnerships. Hence I am really happy to welcome Sampath Bank as a partner and to be able to work with them in improving the quality of knowledge available to the professionals of tomorrow. I am certain that this partnership will be the basis of many great things to come," said Prof.Amaratunge.

Commenting on the partnership,Weragodasaid: "As one of the nation's leading banks, we see it as our duty to continue enriching the knowledge of the nation so that the professionals of tomorrow are better equipped to handle the adversities of industry. As we know there is a huge gap between academia and industry which can leave recent graduates perplexed as they enter the workforce. By bridging this gap we make a better, stronger workforce that will make Sri Lanka the envy of the world. Therefore, we are very excited about this partnership with this prestigious institution and look forward to the many insights and developments that will result from it."

This multifaceted agreement will allow Sampath Bank to conduct extensive research on financial theory, markets and other areas of interest. In return, the students at the University of Sri Jayewardenepura will have access to extensive industry knowledge and insight. They will also periodically be given placements at the bank to help them get a better understanding of the local financial landscape.

The University of Sri Jayewardenepura said it was committed to the pursuit and transmission of knowledge through teaching, scholarships, research and active service to the community. It said it creates an environment which values creativity, freedom of intellectual thought and expression, equal opportunity, fairness and professional growth.

Established in 1987, Sampath Bank has become a state-of-the-art financial institution which continues to be a market leader today thanks to its constant innovation and customer-focused approach to business. Sampath Bank's unique tailor-made solutions, superior services and convenience of access have allowed it to further differentiate itself from the competition and make it the bank of choice for many in Sri Lanka.