Prof. Nikunj Dalal, DOMS, Indian Institute of Science, Bengaluru Prof. K.B. Akhilesh, and Vee Technologies, Bengaluru Founder and CEO Chocko Valliappa
Samantha Rathnayake, Management Consultant from the Postgraduate Institute of Management, University of Sri Jayewardenepura recently addressed two back to back international conferences on Future Work Organisations: Perspectives, Issues and Challenges organised by Sona School of Management, India and emerging trends in management: Focus on service organised by the Goa University, India at the department of management studies of university of Goa.

In addition to the above addresses, he chaired a couple of research and other parallel sessions in both conferences.

Both conferences were driven in line with the changes and challenges of a leap from the linear to non-linear world of organisations and from known to unknown by examining the areas such as principles which are guiding the success of twenty first century work organisations. It was explored and highlighted the fact that what truly binds in networked organisations; exploration of information technology versus other options for meaningfulness; how work organisation make the shift from just spreading information around a network to building new knowledge.

It was emphasised the role of what important technology would play to shape the future of work organisations and how work organisations would balance the need for radical change with the need for strategic continuity. In this context, what should leaders do to ensure that their corporate work culture would be a strategic asset rather than a change anchor to meet the future need and the roles and responsibilities of the work within the organisations?

The key sharing of the emerging factors were the way technology and innovation has created the revolution in the automobile industry, health sector, space management, waste management, water management and the way it led to disappearance of jobs like the drivers, tellers, typists, etc. It is evident that the changing phase from dependent managers to independent managers and now moving to interdependent managers for the future.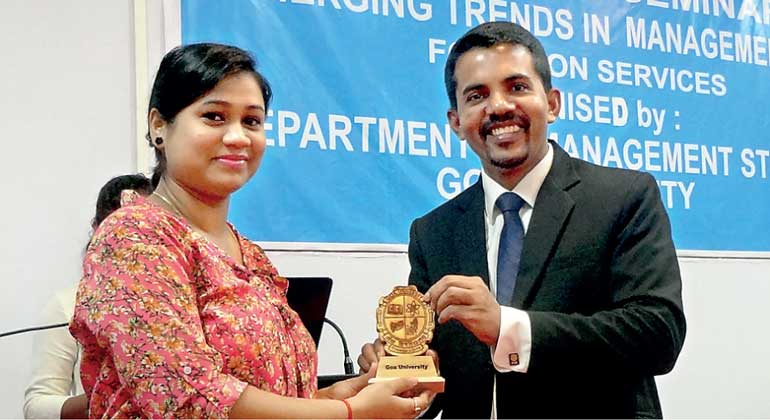 Samantha Rathnayake receiving the token
Other key discussed points were that the emerging industries would require new jobs, skills and competencies which would differ from that of the existing ones. The exploration of such skill sets and developing the competencies for human workforce is the need of the day. It was concluded that the future leaders need to be focused on Entrepreneurial qualities, Emotional Intelligence and Empowerment and emphasised that future leaders need to shift from Emotional Intelligence to Intelligent Learners.

Among other key personnel who attend the conferences were Prof. Kishore Kulkarni from Metropolitan State University of Denver, USA, Prof. K.B. Akilesh, Senior Professor, IISc, Banglore, Chocko Valliappa, Vice Chairman, Sona College of Technology, Salem, India, Sabur Khan, Chairman, Daffodils University, Bangladesh, Prof. Nikunj Dalal, Oklahoma State University, USA to name a few.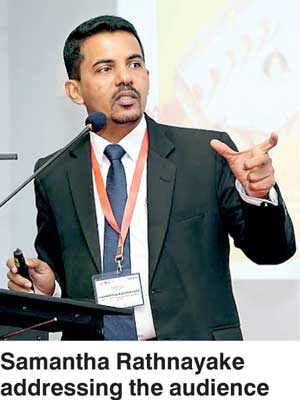 Among the other contemporary challenges discussed during the conference was how globalisation and nationalism, emerging choice of leader and leadership, neutralising impact of technology, building organisations into institutions and human factor would determine the future organisations. The future organisations would witness the challenge of human factor particularly in the productivity of people in knowledge industry. To sustain in future, organisations need to be transparent, have well laid down rules and delegate work.

Under the theme of emerging trends in management: focusing on services where Rathnayake highlighted the key takeaways in line with human resource aspects on service management. He stressed the fact that almost all of our mental prototypes and methodologies to HR, people development, talent management, reward management and many other HR-related interventions have been designed and developed with the idea that human beings in organisations are an asset that can and need to be managed. It is important to admit that company valuations accelerate especially with highly leveraged business models, largely driven by extraordinarily high valuations. It is very much obvious the fact that there is a very high possibility for new market entrants to disrupt existing industries. For instance, it took Google eight years to get to 1 billion market cap, Facebook five years, Tesla four years, Uber three years, Snapchat and Oculus Rift less than two years. There are many more such success stories to follow.

Based on work of John Boudreau and Ian Ziskin, 2015 presented in black holes and white spaces book where reimagining the future of work and HR, Rathnayake shared some cutting edge insights at this conference. By taking into account of some patterns of new capabilities emerging, replacing the ones of today outlined as employee brand becomes employee experience; change management will become agile leadership; employee engagement transitions into community engagement; sourcing and talent attraction will turn into talent relationship building; learning and development becomes community development and boundaryless careers.

It is worthwhile to explore the new roles for HR as identified by Boudreau and Ziskin as 5 new roles that may be needed for the future organisation: Organisational engineer, virtual culture architect, global talent scout, convener and coach, data, talent and technology integrator, and social policy and community activist. He concluded that it is not about technology to take the control over human but to look at how much human got liking to technology; while taking artificial intelligent as an intelligent assistant and not as just taking the reverse in human affairs.