The newly appointed Executive Committee
---
The Postgraduate Institute of Management Alumni Association (PIMA), the vibrant professionals' association of the Postgraduate Institute of Management (PIM), recently concluded their Annual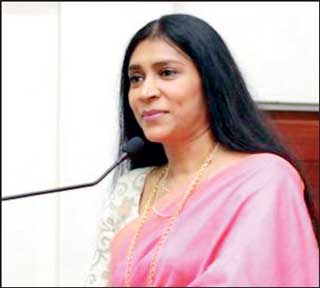 The President for the year 2022/23 Shiranthi Theverapperuma


General Meeting appointing the new President and the Executive Committee for the Year 2022/23.

At the AGM, outgoing President Denzil Perera showcased the many milestones achieved during his year. These included the biennial oration ceremony for Late Prof. Uditha Liyanage with Sri Lankan business titan Dr. Hans Wijayasuriya as Chief Orator, launch of the PIMA Portal - a digital member platform to build, nurture and develop its member network, and the launch of PIMA CONNECT the quarterly magazine featuring member success stories, achievements and research papers. Memorandum of Understanding's (MOU) was signed with Sri Lanka Insurance Corporation (SLIC) and the Chartered Institute of Management Accountants (CIMA) Sri Lanka. Further partnerships were initiated with Elegance Workspaces and Barista Café Company to provide benefits to the PIMA membership. Brand Partnerships were signed with Sarva Integrated, Brands IMC, eLearning and Macom Strategic Solutions. A very timely and valued CSR program titled "Husmata Humak" was launched together with PIM batch of 2021 to support fellow citizens during the Pandemic. Donations of a Non-Invasive Ventilator to District General Hospital – Gampaha and High Flow Ventilator unit and 20 units of wall oxygen outlets were made to the Base Hospital – Wathupitiwela, under the purview of this project.

The New President for the year 2022/23 Shiranthi Theverapperuma was thereafter sworn in by outgoing President Denzil Perera. Shiranthi, an old girl of St Joseph's Convent Nugegoda and Visakha Vidyalaya Colombo, is a Finance professional with over 26 years of experience in Finance and Management. She holds a bachelor's degree in Commerce (Special) from the University of Colombo and is a member of the Chartered Institute of Management Accountants (CIMA) UK. She also holds a Master's in Business Administration from the Postgraduate Institute of Management (PIM), University of Sri Jayawardanapura.

Having started her career at John Keells Holdings, she thereafter joined Ceylon Oxygen Ltd. as Manager Finance and thereafter as the General Manager Finance and Control, in which capacity she currently serves. She has held the positions of Treasurer and Vice President prior to being appointed as President of PIM Alumni and is also an active member of the CIMA Toastmasters Club, currently serving as its Vice President Membership.

Speaking of her plans for the year ahead, Shiranthi pledged to take forward the great work of the PIM Alumni that has provided impressive pathways for career progression for its members. She emphasised that her goal would be to work towards taking forward PIMA's vision of transforming the PIM Alumni into a community of 'Thought Leaders' that will shape the nation's socio-economic fabric.

She further encouraged members to recognise how the impossible becomes possible when mental barriers are broken and emphasised the importance of being brilliant in basics as PIM Alumni, and how this can assist in being resilient leaders in a truly VUCA world both in the Private and Public sectors in Sri Lanka where members of the PIM Alumni contribute as top decision makers.

Shiranthi also presented the four-pillar strategy (i.e. Professional Development Events, PIM joint Events, National Level Events and Member Events) for the year 2022/2023, being mindful on continuous improvement, which would assure that all of PIM Alumni's activities this year will necessarily set a base, a stage and a platform for 2023/24 under the next presidency.

The members appointed to the Executive committee for 2022/2023 included Sunway Group of Companies Managing Director Ramesh Dassanayake (Vice President), Lanka Salu Sala Chairman Denzil Perera (Immediate Past President), Management Consultant and Corporate Trainer Shantha Katipearachchi (Secretary), Ministry of Justice Assistant Secretary Ruvini De Silva (Assistant Secretary),

Print Care PLC Group Finance Manager Anoj Iroshan (Treasurer), Allianz Insurance Lanka Ltd Head of Business Bancassurance Thimira Manamendra (Editor) and Fereneto Tyre Corporation Head of IT Saman Wimaladasa (Assistant Editor).