Earning a degree isn't the end of the education process. In order to become more proficient at their jobs after graduating, career-minded individuals should assist the guidance of experts who could navigate them through education, training and in pursuit of employment.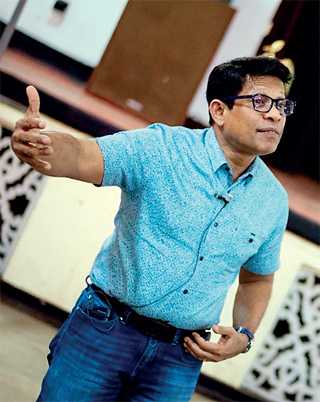 Commercial Credit CEO R.S. Egodage addresses the event attendees
In order to provide guidance and enhance the knowledge and skills of young individuals, Next Step '19 was initiated as a professional development project by the Rotaract Club of the University of Peradeniya. This project is carried out as a series of events in three phases, and aims at creating awareness about career opportunities and building professional skills of youth.

The first session of Phase One, "Meet the Experts" was a huge success, which was held on 19 December 2018 at the E.O.E. Pereira Theatre at the Faculty of Engineering. The guest speaker of the event was Commercial Credit CEO R.S. Egodage, and the youth were immensely inspired by his intriguing talk during the session. The second session of this phase was held on 15 January at the Appadurai Auditorium at the Faculty of Agriculture. Several discussion forums were conducted by the guest speakers on "How to face an interview properly "and skills needed in the corporate world. More than two hundred undergraduates were expected as participants for this event.

A one-day career fair will be held on 20 January as the second phase of the series. This aims to address the gaps and shortcomings in the University system while connecting with the corporate world, as well as the lack of awareness of undergraduates regarding the paths for their higher education. And as the final phase, a two-day program will be conducted to identify and enhance the leadership skills and potentials of Rotaractors in the university. This will take place in Rideegama on 16 and 17 February, which is an adequate place to carry out outdoor activities and training programmes.

Since the current corporate world seeks individuals with the best potentials, Project Next Step '19 will be a great platform and a support for the students to decide on their careers, training and occupational choices which match their personal characteristics.