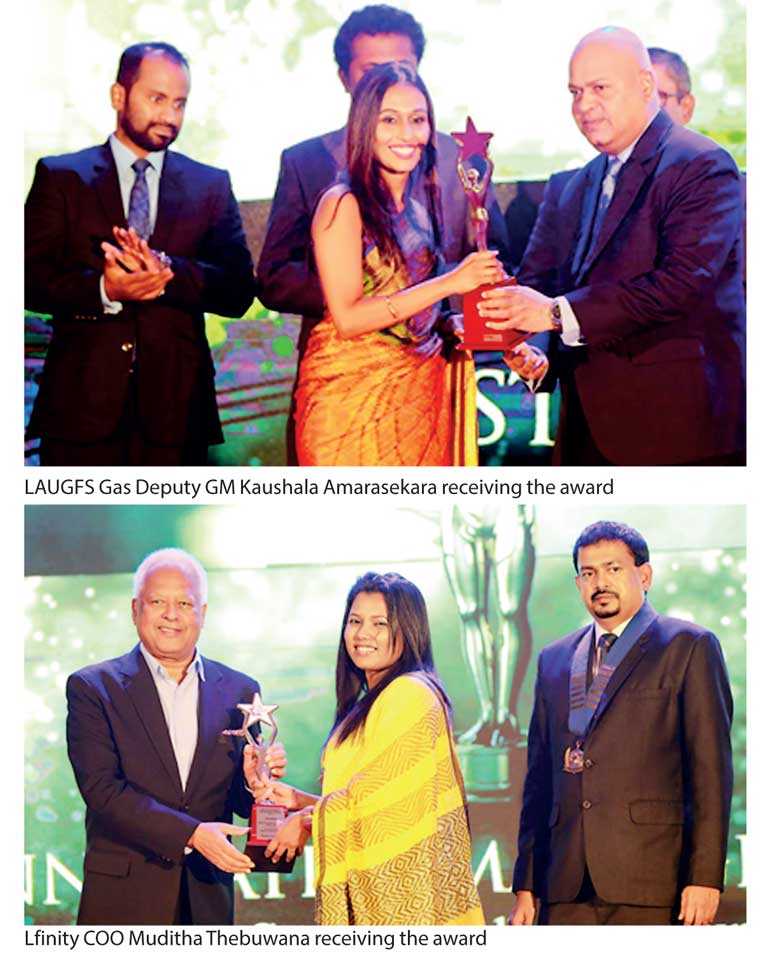 Reinforcing the leadership force that drives LAUGFS, Lfinity Chief Operating Officer (COO) Muditha Thebuwana and LAUGFS Gas Deputy General Manager Kaushala Amarasekara emerged winners at the Chartered Management Institute Management Excellence Awards (CMI-MEA) 2017 held recently.

While Thebuwana was bestowed the 'Most Innovative Manager' award in the Service Sector – Small and Medium, Amarasekara clinched the award for 'Best Emerging Manager' in the Industrial Sector – Large Category.

Organised by CMI Sri Lanka, the Management Excellence Awards was held to recognise the most promising and innovative management professionals in the local business community. Following a stringent selection process, candidates are evaluated by a board of eminent judges from the public and private sectors as well as academia.

Instrumental in steering the growth of Lfinity and LAUGFS Gas, Thebuwana and Amarasekara have continuously showcased persistence and resilience in their leadership, contributing to the success of the organisations.

Heading Lfinity as the COO, Thebuwana's inherent visionary outlook has played a pivotal role in LAUGFS' extension to the online market space. Operating a range of diverse e-commerce sites, Thebuwana spearheaded the establishment of ClickNShop – the virtual shopping mall and GroceryPal – the online grocery store, to meet diverse shopping needs by providing greater convenience and choice.

Over 8,000 products and services are listed in the online shopping platforms together with multiple benefits ranging from island-wide delivery to interest-free instalment schemes, making Lfinity a fast-growing e-commerce platform providing customers with quality, convenience and reliability.

During her time serving LAUGFS Lubricants as the Category Head, Amarasekara elevated the brand presence of LAUGFS Lubricants before progressing to LAUGFS Gas to achieve similar fetes. A highly-experienced professional in the field of marketing, Amarasekara's leadership in deploying the re-branding campaigns paved the way for LAUGFS Lubricants to be identified as the only local lubricant brand trusted by motorists.

LAUGFS Lubricants is the only Sri Lankan company to launch its own lubricant brand offering lubricant solutions to every class of motor vehicle. The premier quality product range is developed in its manufacturing facility in Malwatta BOI Zone, which utilises cutting-edge technology to blend engine oil in compliance with international industry standards. The wide range of products are specially designed to suit the dusty tropical climate of Sri Lanka.

Following the successes at LAUGFS Lubricants, Amarasekara took up the role of Deputy General Manager at LAUGFS Gas to continue to share her expertise in driving the organisation's position as a leader in the power and energy sector. With over 6,000 dealers and 31 distributors, LAUGFS Gas delivers customised LPG solutions to commercial, industrial and domestic customers.

"As a trusted local conglomerate, our focus is on nurturing and grooming local talent to 'make LAUGFS a Great Company by Building a Great Team'. Being the pride of Sri Lankan talent, with strong family values at the root of the group's success, multiple initiatives are developed by our LAUGFS HR team to ensure that employees are provided with a platform for learning and progression whilst providing an engaging work experience," remarked LAUGFS Holdings Director-HR/Group CHRO Dulani Nissanka.

LAUGFS is one of the largest diversified business conglomerates and a trusted name in Sri Lanka. Founded in 1995, LAUGFS today has expanded across 20 industries in Sri Lanka and overseas, establishing a strong presence as a leader and pioneer in the power and energy, retail, industrial, services, leisure and logistics sectors. With over 4,000 employees and an annual turnover exceeding Rs. 28 billion, LAUGFS continues to expand and empower millions as a trusted Sri Lankan brand.