The Institute of Chartered Corporate Secretaries of Sri Lanka, organised a well-attended Business Breakfast Meeting on Tuesday, 25 June at California Grill, Galadari Colombo to address the effectiveness of corporate governance in enhancing the capacity of corporate leadership in Sri Lanka.
The event was hosted by the Institute of Chartered Corporate Secretaries and members of ICCSSL Board of Management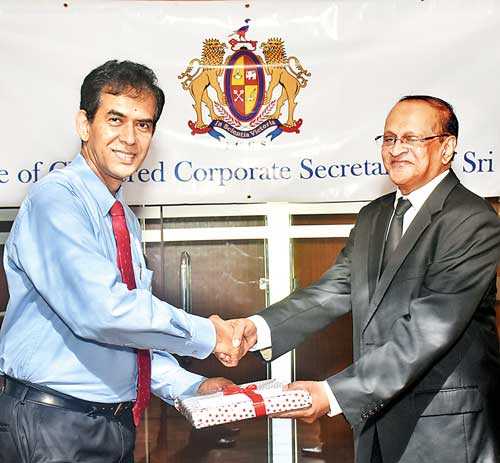 Prasantha Lal De Alwis, President's Counsel, Deputy Chairman of Siyapatha Finance PLC, delivered the opening remarks highlighting the importance of adhering to the regulations and guideline stipulated by Financial Governing bodies, of Sri Lanka, Institute of Chartered Accountants and Colombo Stock Exchange in establishing corporate governance and good practices.

De Alwis further explained that; code of best practice on corporate governance, not only enhances the image and reputation of a company, but produces economic benefits by making it a profitable entity. With enhanced corporate transparency and additional disclosure requirements, investors can more easily analyse the risk profiles and investment potential of respective companies.

The Company Secretary is the bridge in today's corporate environment ensuring the implementation of best practices in corporate governance.

On appointment, directors are notified with all relevant governance information, governance structures, relevant legislation and policies.

Today's developing business environment, company secretary is the co-ordinator, largely influencing the future pathway or destiny of the institution.

As the Chairman of Integrated Risk Management Committee, and Corporate Governance Committee of Siyapatha Finance PLC, De Alwis stressed that good governance and risk management is a continuous process. It is the Risk Management Committee and Board Corporate Governance Committee who recognise the need of continuous training, enhancing the professional development skills necessary in carrying out duties as a Director.

The Company Secretary, generally initiates such training for Directors.

This whole process will safeguard the director's liability by formulating and implementing effective risk management and internal control systems by safeguarding shareholder interests.

ICCSSL, with a wealth of experience and knowledge in Corporate Governance and Secretariat Practices intends to organise a series of workshops and seminars in driving Sri Lankan Public and Private enterprises towards sustainability and excellence.