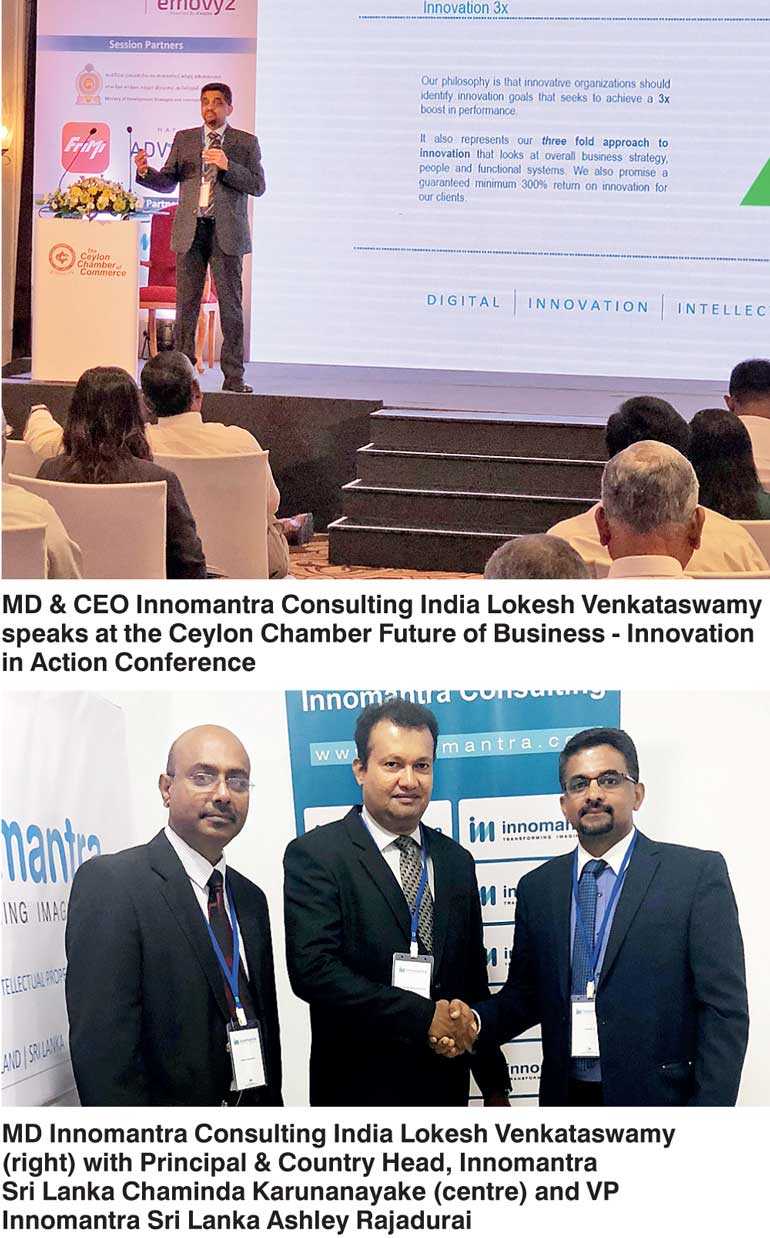 Sees immense opportunity for innovation with Sri Lanka being the catalyst for Asia
Intent on building a culture of innovation in emerging digital economy


Naming Sri Lanka as the springboard for Asia with the digital economy bringing larger and smaller companies together, India's leading innovation and intellectual property consulting firm Innomantra started operations in Sri Lanka recently.

Headquartered in Bengaluru, India and having an extensive clientele spanning startups to SMEs and the Fortune Global 500, the Sri Lankan office joins two others located in Zurich and Mysuru.

Innomantra Consulting Managing Director and Chief Executive Officer Lokesh Venkataswamy was in Sri Lanka recently and featured as a speaker for the Ceylon Chamber of Commerce Future of Business – Innovation in Action conference.

"Sri Lanka is a land of opportunity and the potential for innovation is huge. With the digital economy bringing large and small companies together, smaller countries in Asia can become the drivers of innovation. Digital prompts a level playing field which means innovation can come from anywhere and doesn't always require big budgets. Sri Lanka can easily stand equal to India when it comes to innovation as I see next generation companies emerging from Sri Lanka," he said.

Innomantra Sri Lanka Country Head Chaminda Karunanayake said the Sri Lanka operations was birthed due to his quest for knowledge business. "We wanted to sell and share knowledge and make it widespread but found that what was already available in Sri Lanka were just incremental improvement but nothing spawning innovation."

With Innomantra coming on board with a common vision and due to its opportunity based approach that geographic barriers don't exist in a digital economy, he added, "Innovation brings new possibilities of collaboration. We see cross cultural learnings that enable start-ups from two countries to come together to solve a bigger challenge in a bigger market. We see consulting opportunities, connecting smaller companies with larger companies and putting in processes that would birth innovation because Sri Lankans can get into this area with great alacrity."

The Sri Lanka Office has already begun meeting senior leadership team of various forums. While the collaboration with the Ceylon Chamber of Commerce gave a platform for the Company to make inroads with the Chamber membership, is also in discussion with smaller chambers, professional bodies and associations including the IET, SLIM, CIM, SLASSCOM and IESL.

"Our approach is to create relationships with these bodies and thus make inroads into their wider communities," explains Karunanayake. "Our tagline is transforming imagination. We spur new thinking into an organisation and maximise human potential. We guarantee that with just 25 people of ideation, we can generate over one thousand ideas in just a month. We use these ideas in strategic planning and help companies to identify spaces to invest in the mid to long term. The process is a continuation and the culture of the organisation must adapt to this."

"The challenge for innovation remains the same in every organisation. But when Innomantra comes in, it is people who will make the difference. The company drives them to explore ideas and support the bright ideas that emerge. That's an innovation culture," Lokesh added.