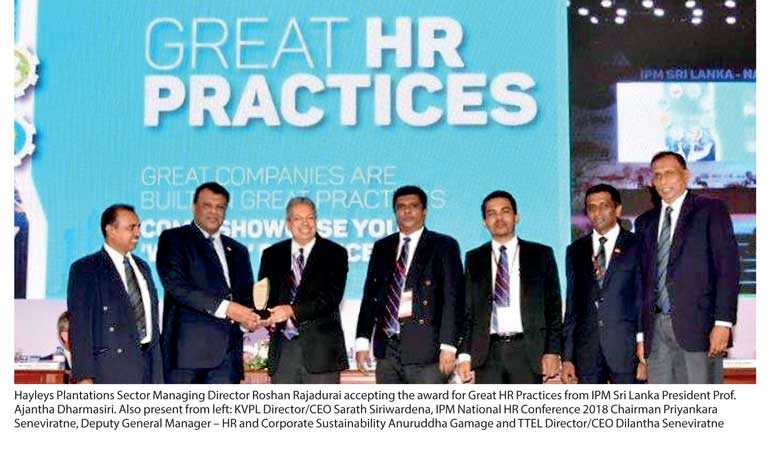 Extending a remarkable legacy in employee empowerment, Sri Lanka's most innovative plantation sector achieved another remarkable milestone as Hayleys Plantations was declared winners of Great HR Practices at the Institute of Personnel Management (IPM) National HR Conference 2018.

The award was presented to Hayleys Plantations sector in recognition of its pioneering efforts in developing a modernised and extensive system of Human Resource management encompassing every level of employment within the organisation under the umbrella of its flagship initiative: 'You Are Identified'.

"Finely balanced human resource management is very much at the heart of our success at Hayleys Plantations. Through the integration of digitised systems from the field level of operations upwards, we have not only been able to gain visibility into individual employee performance, but also share that information within the organisation.

"This has enabled us to provide employees and managers with a clear measure of performance. These innovations have enabled a vibrant, performance-driven culture across Hayleys Plantations, and we believe these are examples that must be amplified and emulated moving forward," Hayleys Plantations Managing Director, Roshan Rajadurai stated, speaking shortly after delivering a presentation as part of this year's National HR Conference in relation to the unique experience and approach of Hayleys Plantations to the field of Human Resource Management.

The company's unique approach to performance measurement is best exemplified in Hayleys Plantations award winning tea estates. Where in the past, tea harvesters would have their tea manually weighed using rudimentary analogue scales, following which entries were made by estate staff in the field. Thereafter, these field lists would be manually entered into a computer terminal, the results of which would be only available for analysis by at least the following day.

By contrast, today, every tea harvester working for Hayleys Plantations is provided with a personalised NFC-enabled ID card; a pioneering first in the Sri Lankan industry.

Each of these cards is utilised to store the information on individual employees' daily tea harvest, the results of which are weighed on digital scales that are linked directly to a real-time online system developed internally at Hayleys Plantations and accessible by management through specially designed digital tablets distributed among estate and senior corporate management.

"By providing employees and management alike with accurate, reliable data on daily performance that is updated in real-time, we have created a tamper-proof system for measuring the output of our employees. This enables them to trust that they are being compensated fairly according to the effort they put in, and generally the response has been extremely positive.

"Because employees at every level are rewarded for strong performances, we are able to incentivise our best workers and reward them for their efforts, leading to a highly motivated, and driven workforce. The success of these initiatives is amply demonstrated by the high yields, and overall performance of our plantations sector, particularly when compared with industry averages. These efforts were further emphasised by the performance of Hayleys tea harvesters who won the 1st, 2nd and 3rd places at the first ever Sri Lanka Tea Board 'Best Tea Harvester' all-island competition, including district level winners as well," Hayleys Plantations sector Deputy General Manager - HR and Corporate Sustainability, Anuruddha Gamage explained.

"Knowledge, skill and attitude are ultimately the key drivers of success at Hayleys Plantations. By motivating all of employees – from the field up to the boardroom – we are able to inspire them to harness their true potential. This enables Hayleys Plantations to maintain some of the lowest employee attrition and absenteeism rates while driving some of the highest output per employee in the industry," Rajadurai stated. In addition to rigorous performance evaluations, the company also invests substantially in training and skills development for its employees and over the past year, increased its investments from Rs. 8.1 million in 2016, up to an investment of Rs. 9.8 million across the entire organisation – from motivation and team building exercises to extensive support for employees working to secure academic and professional qualifications. These efforts are distributed across the entire 22,995 employees of Hayleys Plantations thus ensuring optimal engagement across the organisation. The company's award for Great HR Practices represents the most recent in a long series of accolades presented to Hayleys Plantations. Commencing with the National HR Excellence Gold Award in 2016, the company and a total of six awards, including two gold awards at the National Business Excellence (NBE) Awards in the same year. The organisation followed up this remarkable achievement with a record breaking 13 awards including six Gold awards and Overall Excellence Bronze Award at the NBE Awards 2017.

During this time, Hayleys Plantations was also declared Gold Award wines at the SLITAD People Development Awards 2017, while also setting international benchmarks having been declared winners of the South Asian Business Excellence Award 2017, winners of the Global HRM Awards 2017 and winners of the Asia Pacific HRM Awards for the past two years running.