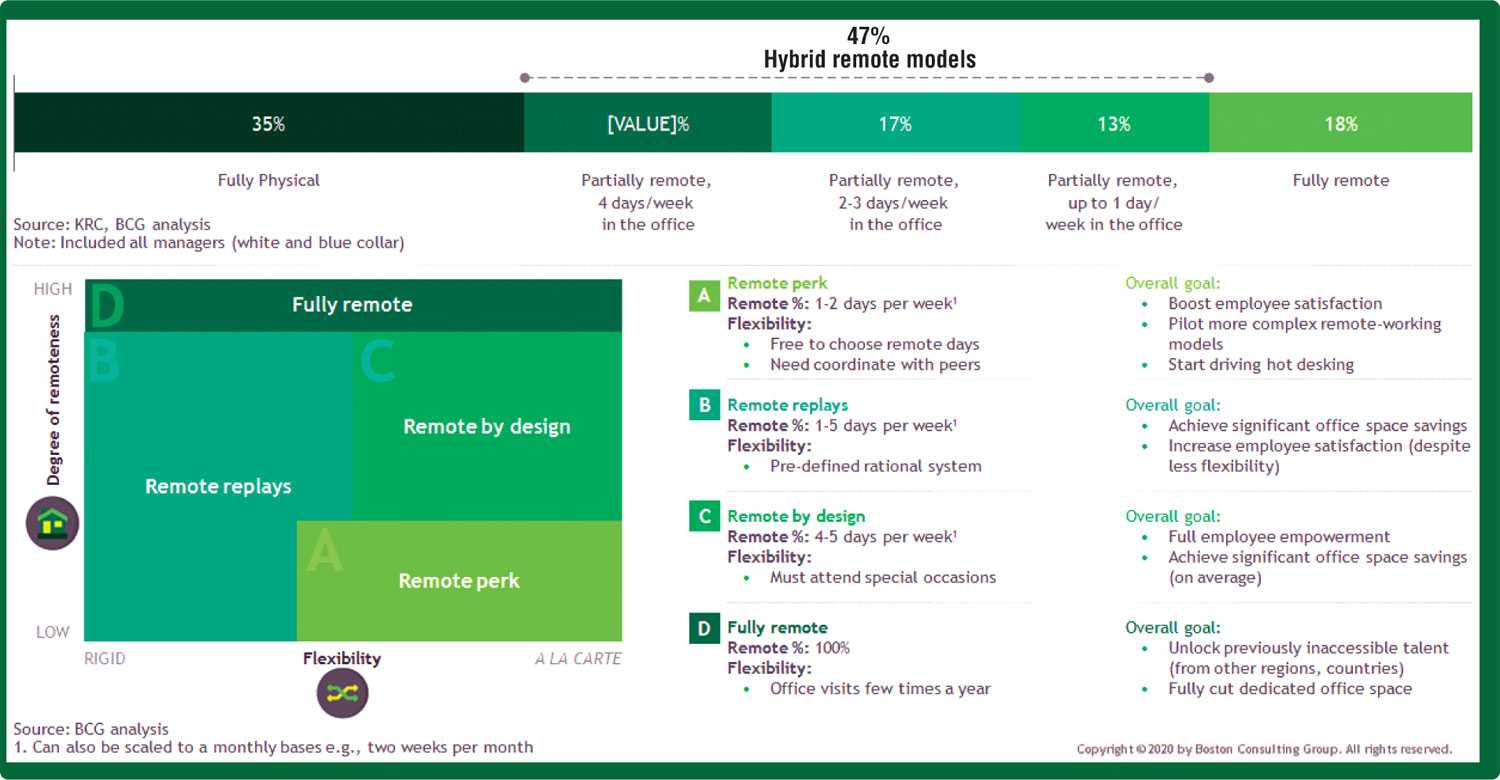 ---
By Chilman Jain and Prateek Roongta
---
The COVID-19 pandemic has precipitated several shifts in the way businesses interact with their customers and their employees. In the face of government lockdowns and social distancing protocols, companies around the world have adopted the Work from Home (WFH) paradigm over the last several months.
Striking balance while working from home
As per a BCG survey in collaboration with KRC Research, a firm based out of the United States, of more than 1,500 managers and 7,500 white- and blue-collar employees across 15 countries across industries, and interviews of numerous business leaders, more than 40% of managers' report that productivity has increased among their remote workforce, and a similar percentage believes their overhead costs will decline.1 Employees have also seen benefits, including greater focus, increased flexibility in working hours, and significant improvement in work-life balance. Society benefits too due to the potential for greater workplace diversity, income equality, and environmental sustainability.

Inevitably, unexpected shifts are likely to birth new challenges as elaborated below:

1.The threat to productivity: This complex issue involves driving individual productivity, facilitating remote collaboration, managing workload, and enabling teams to work remotely.

2. A loss of team spirit: Remote working can adversely impact team spirit by weakening relationships, creating disconnection, lowering trust, and creating silos between teams.

3. The onboarding challenge: New hires usually imbibe the culture of the firm through osmosis. This process is enabled by workplace and social interactions with senior peers.

4. Slowing innovation: Co-location enables employees to productively interact with each other, brainstorm, and whiteboard, thereby accelerating innovation.

Going forward, a right balance between physical models and remote models will need to be found – and most companies will find a hybrid model to be sustainable. The five dimensions to be considered on the journey to the hybrid future include:
1.Defining the goal
Define a sharp target vision of what hybrid work should look like at your company including:

a. Leadership clarity on the purpose of remote work

b. Set clear and measurable targets

c. Assess working models to be offered, balancing simplicity and customisation

d. Determine eligibility based on role and interdependencies on other functions

e. Consider impact on employee compensation

f. A 'test and learn' mindset will help scale up successful models

g. Adopt a trust-based management approach - shift from the measuring employee inputs (time spent in office) to outputs (achievement of pre-set, objective goals)
2.Choosing the right hybrid working models
Companies need to craft an effective hybrid working model. Our survey indicates that managers expect almost 50% employees will work in some form of a hybrid model in coming years (Refer to given exhibit).

Companies deploying remote-work practices include:
Twitter permitted employees to WFH permanently, even post-pandemic, basis role and situation.
Telstra, Australia's leading telecommunications and technology company, adopted a flexible model called 'All Roles Flex.', allowing flexible working locations and schedules.
BP PLC, a British multinational oil and gas company, is planning to shift 50,000 employees to hybrid remote-working models post COVID, involving alternating between WFH and office hot-desking.
Google extended its WFH policy till September 2021 for select roles.
3. Building agile practices
Agile practices enable collaboration and create cohesiveness amongst remote working teams. Our survey showed that remote-working companies that had already deployed at least two agile practices were 40% more likely to report an increase in productivity among remote teams. Examples of agile practices include:

a.Daily 'stand-up' sessions to review backlog, align on priorities, and discuss potential roadblocks

b. Asynchronous communication using functional collaboration tools, ensuring information flows to all stakeholders regardless of time and space constraints
4. Creating caring remote leaders
According to our survey, one-third managers believed that they do not communicate goals to their teams clearly, and one-quarter do not encourage their teams to seek new perspectives independently. Virtual environments require managers to empower their employees with more autonomy. Thus, leaders will need to develop a new set of soft skills at all levels of the organisation. The remote leader of the future will need to be inspiring, caring, and empathetic.
5. Embracing digital solutions
While a shift to digital solutions is already underway, the remote work paradigm compelled companies to quickly and holistically embrace digital solutions. Over the past year, for example, the number of daily active users of Microsoft Teams more than tripled to 75 million, while the number of daily participants in Zoom meetings grew more than 30 times. In both cases, the time spent on video conferences increased tenfold.

The COVID-19 pandemic has revolutionised the way we work. The future of work is inarguably going to change with remote working continuing to persist, to some degree, even after the pandemic subsides. Companies that wish to emerge stronger in the next normal must begin testing, learning, and adapting to the new reality.
---
(Chilman Jain is Principal, BCG and Prateek Roongta is Managing Director and Partner, BCG

The writers' views are personal. Boston Consulting Group is a premier global management consulting firm founded in 1963. BCG partners with leaders in business and society to tackle their most important challenges and capture their greatest opportunities.)
---
Footnote

1 https://pulse.microsoft.com/uploads/prod/2020/10/BCG-Remote-Working-and-the-Platform-of-the-Future-Oct-2020.pdf