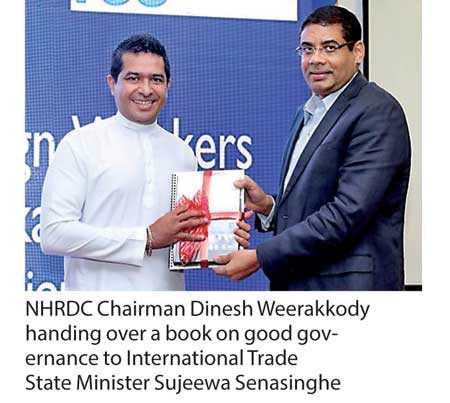 If SL to allow foreign workers policies must be carefully drafted, should not destabilise local labour market
Industries grapple to fill in 500,000 vacancies in job market at present; tourism, construction, ICT, plantation most affected sectors
Demand for highly-skilled workers has increased at greater rate than average growth
Growth pace of labour force estimated to start declining from 2030 onwards
Suggest considering local certification and mutual recognition agreements in allowing foreign workers in short run
International Trade State Minister says Unity Govt. overall has achieved good governance and transparency
Insists SL should capitalise on its location to become a manufacturing hub in Asia
Immigration and Emigration Department Controller General assures less than 30,000 active resident visas in employment sector
Despite many agreements IESL claims Govt. failed to create a legal framework to manage migrant workers
GMOA suggests NHRDC should be further empowered to address skilled labour mismatch
Construction industry urges Govt. to create job bank
By Charumini de Silva

With Sri Lanka experiencing a severe labour shortage, top experts attempted to examine the magnitude and nature of the labour dearth in the country, while looking at methods that could work out with differently crafted strategies and possible solutions to deal with importing labour under a proper management framework.

At a constructive discussion titled 'Bringing skilled foreign workers into Sri Lanka; is it a viable option?' organised by the National Human Resources Development Council (NHRDC) together with CA Sri Lanka and the International Chamber of Commerce Sri Lanka (ICCSL), experts outlined the possible challenges, responsibilities of authorities to safeguard the interests of Sri Lankan citizens and realistic solutions to uplift the skilled labour component of the economy.

Delivering the keynote address, Institute of Policy Studies (IPS) Director Research Dr. Nisha Arunathilake emphasised that if Sri Lanka was to bring in foreign workers, policies must be carefully drafted so as not to destabilise the local labour market.

According to her, Sri Lanka was facing a labour shortage in the country where industries were grappling to fill in 500,000 vacancies in the market at present. About 200,000 of those were in the industrial sector and another 200,000 were in the service sector, while the balance were in other sectors. The most affected industries include tourism, construction, ICT and plantation.

High demand for skilled labour growth increase, declining labour force growth (partly due to population trends and lower participation rate), an aging labour market and the slow pace in educating the labour force were underscored as key reasons for the dearth of skilled workers in Sri Lanka.Dr. Arunathilake said the demand for skilled workers had increased at a greater rate than the average growth, while at the lower level too there was some increase. Demand for most skilled workers (managers and senior officials) had increased 31.62% compared to average growth of 3.47%, while the demand for professionals had increased by 7.33% from 2013 to 2016.

"The labour force share of the population is economically active in a different combination of groups, which has actually gone down; except for graduates and for those in urban areas. The decline is mostly for young people between 15 and 29 years old, where the problem is at. The labour force is aging. The age of 40 and above labour force has increased from 51% in 2008 to 57% in 2016. Fewer young people are entering the labour force," she pointed out.

She also warned that the growth pace of the labour force was estimated to start declining from 2030 onwards.

Labour shortage

Although the labour force was getting educated, she said this was not happening fast enough and as a result they could not cater to the rapidly growing demand for skilled workers in the country.

In addition, fierce competition, people being uninterested in jobs, poor terms and conditions of employment, salaries demanded being too high and a low number of qualified applicants were also pointed out as reasons for employers facing a labour shortage.

Noting that a labour shortage was not unique to Sri Lanka, she cited the US, UK, Spain and South Korea as examples where economies relaxed their migration policies.

Suggesting the increase of the labour participation level, training of existing workers, improvement of incentives (salaries) to attract more workers, mechanisation, improvement of labour management and foreign workers as solutions to the looming labour crisis, Dr. Arunathilake however said that these solutions could be done in the short term, particularly in areas such as training and foreign labour. "In the short term we at least need to think about importing workers, which needs to be done in a managed way to have control over it. The two ways of doing it is through local certification and mutual recognition agreements (MRAs)," she said She also acknowledged the responsibility that comes with allowing in foreign labour such as safeguarding the interests and welfare of those people. "We need to look at the rights of migrant workers (UN convention), a methodology to manage illegal workers, public health considerations, social protection for foreign workers, the families of foreign workers," she added. Chief Guest International Trade State Minister Sujeewa Senasinghe said that despite the many flaws of the Unity Government, in the areas of good governance and policy it had laid a solid foundation for the economy during a short span of time.

"There are a lot of flaws but overall the good governance and transparency we have achieved are worlds apart from the previous regime. We have done our best in terms of formulating clear policies," he added.

He said that if Sri Lanka could ink trade agreements with India, China, Pakistan and Bangladesh, the country would be the only economy with duty-free access to a market of 4.5 billion people in the US, European Union and Asia.

"Location is our biggest advantage. There are leading automobile manufacturing companies that are keen to have storage centres in Sri Lanka and to manufacture electrical components. We can easily become a manufacturing hub in Asia," Senasinghe said.

The Institute of Engineers Sri Lanka (IESL) Vice President Eng. Arjuna Manamperi said that despite engaging in several discussions with authorities since early 2016, the Government had failed to create a legal framework in the country to manage migrant workers. "Although all professionals participated in good faith in these kinds of constructive discussions, some of the agreements we have had have not been fulfilled. It was agreed to create a legal framework to manage migrant workers. Although the Sri Lanka-Singapore Free Trade Agreement (SLSFTA) was signed, we still don't know what's going on," he claimed.

He insisted that the Government should consider professionals' views in FTA negotiation meetings. "Being a migrant worker myself, I returned for the patriotism I have for the country. We are very keen to build this country." He also proposed to the organisers that these types of constructive dialogues should take place in the rest of the country, where the majority of the people lived. "We are too Colombo-centric. These types of discussions should happen at town hall meetings and engage with them, not necessarily with speeches," Eng. Manamperi said. Immigration and Emigration Department Controller General Nihal Ranasinghe said the total number of active resident visas given in the employment sector as at 30 September was less than 30,000.

"With the FTAs, the immigration was changed to facilitation. Previously it was a highly regulatory mechanism that we undertook but later it was about regulation and facilitation. As at the end of last month we have approved 23,594 active resident visas in the employment sector which includes 7,551 for Board of Investment (BOI) projects, 9,370 for the private sector, 6,589 for the state sector and 84 for the construction industry."

Job bank

Representing the private sector construction industry, Access Engineering Plc Managing Director Christopher Joshua suggested creating a job bank assured by Government with a monthly allowance which would allow the private sector to absorb talent at a premium rate that would also open up an avenue to create revenue for the Government. "There is no problem for us in finding white collar jobs. As the government sector is very attractive for people, create a job bank. If there are 50,000 construction workers, make vocational training compulsory to assure a government job with a monthly allowance of Rs. 10,000 to Rs. 12,000; they will be very happy. We can take them at a premium and the Government can make money. The Government only has to create a job bank and guarantee employment. This is a short-term solution to create interest among the general public to make use of the vocational training institutes, as there is no participation at these institutes," he said.

He pointed out that even after providing a daily wage of Rs. 2,000 to construction workers, the industry was finding it extremely difficult to retain them. "We have a labour force of about 2,000 but 200 migrate for higher salaries." Joshua said that majority of construction workers were also part-time farmers. "During the harvesting time we cannot get them back to work. Although they know that the projects needed to be completed," he stressed. Highlighting that Sri Lanka had no labour shortage but a mismatch of attitude and skilled workers, Government Medical Officers Association (GMOA) General Secretary Dr. Chandana Dharmarathe suggested that the NHRDC should be further empowered. Labour Department Commissioner General A. Wimalaweera called on the Government to analyse the real need in the workforce and address the issue with clear and consistent policies.

"The Government must do away with these ad hoc policies. I am afraid we are giving hope to children with 13 years compulsory education for white collar jobs," he added.

He also said that the department does not look at whether foreign workers have a visa, but they implement the labour law. "We don't look at the visa. We only look at if the company has adhered to the labour laws. Irrespective of the nationality, we take action against those who violate labour laws," he said.

CA Sri Lanka President Jagath Perera insisted on revisiting the education system in Sri Lanka to bring youth to a level that they would be skilled in some way to be absorbed into industry.

He also said that if there was a labour shortage the country needed foreign labour, which should be regulated.