From left: Fairway Holdings Group CEO Imal Fonseka, Brandix Lanka – Holding Company General Manager, Group Capability Nilangani De Silva, F. J. & G. de Saram Precedent Partner Ayomi Aluwihare, Hemas Holdings Executive Director/CEO Steven Enderby, MAS Kreeda MAS Active Trading Chief Executive Officer Sarinda Unamboowe, London Stock Exchange Group Sri Lanka Chief Financial Officer Fadhil Jiffry, IFC Sri Lanka Women in Work Program Manager Carmen Niethammer, Selyn Business Development Director Selyna Peiris, UNICEF Sri Lanka Deputy Representative Paula Bulancea, Standard Chartered CEO-designate Bingumal Thewarathanthri, Australian High Commissioner to Sri Lanka and the Maldives Bryce Hutchesson, IFC Sri Lanka and Maldives Country Officer Victor Antonypillai, UNICEF Sri Lanka Representative Tim Sutton, and IFC Sri Lanka Women in Work Employment Lead Aarthy Arunasalam
---
New IFC report reaches out to employers, highlighting why and how they should consider supporting employees' childcare needs
Features 10 key companies across different sectors as case studies, sharing experiences in their childcare journey and setting examples for other companies
By Fathima Riznaz Hafi
'Tackling childcare: The business case of employer-supported childcare in Sri Lanka', a report produced by IFC-led and DFAT-supported Women in Work, in collaboration with UNICEF Sri Lanka, was launched in Colombo recently.

The report reaches out to employers, urging them to invest in and support the childcare needs of their employees, highlighting that this step not only benefits the child and employee but also the employer and the economy because when childcare needs are supported, the obstacles to a healthy work-life balance are removed, resulting in talent retention, greater productivity and a boost in profits.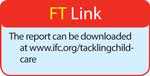 The report also highlights models through which the employer can help, with suggestions ranging from on-site crèche facilities to flexible work hours to manage parenting responsibilities.

The report draws on 10 case studies of leading companies across the country, who have successfully implemented childcare facilities for their staff and now share their experiences from their journey – how they succeeded, what challenges they faced and what eventually worked for their staff and the company.

The companies featured in the report are Brandix Lanka, Fairway Holdings Ltd., F. J. & G. de Saram, Hemas Holdings PLC, LSEG Technology, MAS Holdings, Selyn, Standard Chartered PLC, Unilever Sri Lanka Ltd. and WSO2.
Women engagement in the workforce: Closing the gender gap could raise GDP
The significance of women engagement in the workforce was stressed in the report as well as at the launch. The economy of a country cannot reach its full potential without the participation of women. For the country's economy to grow, it needs to maximise the potential of its workforce. That is not happening in Sri Lanka, with its women participation standing at a mere 34%, while its participation of men stands at 76%. Sri Lanka could raise its GDP by 20% in the long term by closing the gender gap that exists in the workforce.





"There is a large, talented, interested part of Sri Lankan society that is not contributing in the way that it could, to the growth and development of this country. It's got to change," noted Australian High Commissioner to Sri Lanka Bryce Hutchesson at the launch.

He shared that similar to the situation in Australia, commitments around care for children are preventing women from entering the workforce or remaining in the workforce – they are compelled to give up their careers to stay at home with their children due to the absence of safe, affordable, good-quality childcare facilities.

Since it is the lack of such facilities that contributes to poor participation or retention of women in the workforce, employers providing adequate childcare facilities would encourage more women to join the workforce.

"Supporting women to participate in the workforce is not just the right thing to do, it is the sensible thing to do. It's good for women, the workers themselves, their families, businesses and the economy – but it's not happening," he opined.
Family-friendly services: Essential strategic investment in the future generations
"Today's launch is an important moment for Sri Lanka and the private sector as a whole, as it shines a light on an area that we know will be critical for the success of business in Sri Lanka, the success and development of Sri Lanka as a nation, and for every child, in enabling them to achieve their full potential," said UNICEF Sri Lanka Representative Tim Sutton.

"Sri Lanka is nearing the end of its demographic dividend. By 2050, the dependency ratio – the number of people working for the number of people supported on benefits will halve. Currently it is six; by 2050 it will be three. Three people working for every person supported by the State. That means that for Sri Lanka to maintain its current standard of living, its future workforce needs to be twice as productive, and we need to be able to bring more people into the workforce.

"Women's engagement in the workforce is essential for families, for children and for the country itself; and the quality of care and education that we are able to provide to our children is critical for the economic prosperity and security of Sri Lanka moving forward. So it is no surprise that we at UNICEF believe that providing critical family-friendly services is an essential strategic investment in the next and future generations of this country.

"The concepts of work and family are integral to all of us. Finding the balance between the two (work-life balance) can be difficult. For women in particular, this is a real challenge. For many it means a choice – between having a successful career – or being able to fulfil the role of mother. For a man, the pursuit of career goals may lead to the missing out on core time with children, especially during those most critical early years of the child's life. For employers who have limited flexibility to accommodate family needs, they may miss out on retaining good talent and suffer lost productivity from employees challenged with that delicate balance of family and work life. Yet the most profound consequences are faced by children," he said.
Lack of childcare hurts child as well as businesses
Children who have access to early childhood education and care are more likely to perform well in school and be healthier, as well as be more productive as adults. Sutton stressed how critical a child's first five years are to determine their ability to succeed in life.

"During that formative period, the positive and meaningful interaction between the parents and their children from their very early stages help to shape the child's growth and development, and help make them healthier and happier and increase their ability to learn, with long-term implications for communities and our countries. Deficits that occur in those years – damage caused are for life – they can never be reversed," he cautioned.

Lack of childcare not only affects the child's development but also hurts businesses as they face problems such as high absenteeism, low maternity return rates and inadequate leadership diversity, and ultimately lose valuable employees, thereby suffering reduced profitability and slower growth.

"Ensuring that employees have access to the services that help to give parents the time, resources and information they need to care for their children, is vital and has a far-reaching impact on our economic and social development. Notably, the companies featured in the 'tackling childcare' publication have taken key steps in recognising the critical importance of adopting family-friendly policies that support early childhood development; let them be an example for others," he said.

"Globally we see compelling evidence that family-friendly policies such as: Paid parental leave for mothers and fathers, paid breast-feeding breaks for mothers, quality early learning facilities such as pre-schools for children under the age of five, and employer-supported child care, have a positive impact on children, parents and businesses," Sutton noted.

Calling on the wider private sector to learn from and adopt these policies that are not just right but are the smart way of doing business, he added, "By ensuring that employees have the ability to balance work and family life, businesses are demonstrating their social responsibility, respect and support to advance the child rights agenda as well as playing a key role in building Sri Lanka's future."
What's in it for the company? The business case perspective
An employer looking at the issue from a business case perspective would be able to see that childcare is actually an 'enabler' and when it comes to retention and promotion, the companies benefit from it.

IFC Sri Lanka Women in Work, Employment Lead Aarthy Arunasalam explained: "There needs to be a shift from viewing childcare as a 'cost' towards more of an 'investment'; and put key metrics/indicators in place; because when you link it with key metrics, putting indicators in place, automatically you will see that when companies support employees with children, there is an increase in recruitment, retention, productivity, promotions are happening, there's an increase in maternity return ratesand a boost in profits. It also highlights a company as an employer of choice, which is not only good for the employees but also it provides access to consumers and greater market benefits."
How do employers support childcare?
One of the most preferred modes of support is the on-site daycare or crèche facility but there are various options when assisting employees with their childcare needs besides a crèche facility – such as flexible work hours, maternity leave, extended maternity leave, paid leave, rearranging working time to allow employees to manage childcare, companies partnering to share a childcare facility, back-up care or care during school holidays, cost of childcare could be subsidised or provided free from the employer – and it depends on the company in terms of what your critical need is and how to tackle it.

There is no 'one-size-fits-all' approach to employer-provided childcare – the employer needs to provide according to the needs of his own employees, which may differ from the needs of employees from another company.
One-stop-shop
The Tackling Childcare Report is a one-stop-shop in terms of solutions. It comprises an employee demand survey template, list of childcare providers, list of ECD certification courses, and an overview of regulatory environment in Sri Lanka. The report can be downloaded atwww.ifc.org/tacklingchildcare.

The report launch was followed by a CEO Roundtable whereby heads of the companies that were featured as case studies in the report shared valuable insights based on experiences during their organisations' employer-supported childcare journey.

(Excerpts from the roundtable session will be published at a later date.)