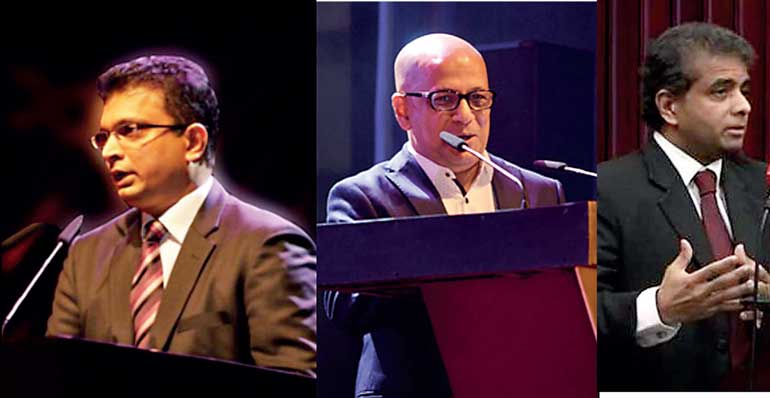 From left: Dialog Axiata Group Chief Executive Supun Weerasinghe, MTI Consulting CEO Hilmy Cader and Dialog Axiata Group Group Executive VP Dr. Hans Wijayasuriya
---
A successful conclusion of Dialog Awards 2020 marks a key milestone for Dialog Axiata PLC of a decade-long journey of this unique HR initiative which Dialog, along with MTI Consulting, conceptualised in 2011.

For the 10th consecutive year, MTI Consulting has been the independent judging partner and lead facilitator to enable Dialog to successfully conclude the event during this tough global situation.

Dialog Awards aims to identify, motivate and recognise the employees of Dialog who have been untiringly working to explore innovative technology solutions to empower and enrich Sri Lankan lives and enterprises. Ground-breaking success in human resource management was the focus of the award program, which sets out to recognise and reward achievements and contributions of highly performing teams and individuals at Dialog, enabling and driving Dialog's performance excellence towards the reinforcement of Dialog's position in the highly competitive sectors that it operates. Over the years, MTI, in addition to providing an independent evaluation of nominated initiatives, has assisted Dialog in the annual review of the awards process through the assessment procedure to better recognise employees.

To mark the decade-long journey of Dialog Awards, MTI's digital team joined hands with Dialog to completely digitalise the award process, allowing judges and participants to join remotely from multiple locations, locally and internationally. This allowed MTI to not only be the Independent Judging Partner for the event, but also to assist Dialog in the annual review of the awards process through the assessment procedure to better recognise employees. Digitalisation of the awards also allowed both Dialog and MTI to reduce the carbon footprint of both the organisations and allowed both teams to embrace a paperless culture strongly believed by Dialog and MTI.

"Standing tall as Sri Lanka's premier connectivity provider, we are what we are today because of our people. Dialog Awards has given us the opportunity to recognise and reward our team for the incredible value they add to take Dialog to even greater heights," Dialog Axiata Group Chief Executive Supun Weerasinghe said.

"Year-on-year, MTI Consulting has remained a vital partner for Dialog Awards, developing and continuously improving the awards process and serving as an independent judge" he further added.

Established in August of 1993, Dialog is Sri Lanka's largest technology and connectivity service provider. As the leading mobile operator, Dialog places great emphasis on ensuring high levels of motivation, especially given the scale of its operations and large customer base. To hold the crown as the market leader and to ensure that the best service delivery to customers is maintained, Dialog continues to consistently introduce and improve technologies through its encouragement of top-tier innovation, in addition to constantly revamping its operations, coverage, products and services.

"We are very pleased to be a part of Dialog Awards serving as an independent external partner once again. Since its inception, Dialog and MTI have worked together to critically review and improve the process, making Dialog Awards one of the most relevant, comprehensive and scientifically measured organisational awards programs covering all spheres and functions of the company.

"Despite the global pandemic, teams at Dialog have managed to implement hundreds of initiatives related to Dialog's annual performance which were evaluated by MTI. The initiatives included some very insightful and game-changing initiatives that will have immediate and long-term impact to Dialog's overall performance," said MTI CEO Hilmy Cader.

Against the backdrop of the pandemic, the Dialog Awards 2020 event was successfully conducted as a grand, interactive virtual event, the first-of-its-kind in the company's history and the country. Over the past ten years, Dialog Awards held its awards ceremony at BMICH, Nelum Pokuna and Shangri-La Hotel, making it the perfect platform to recognise exceptional achievements of the organisation's employees in areas, including cost minimisation, revenue generation, service delivery, project execution, innovation, digitalisation, sustainability and CSR. Members of Dialog Axiata's Board of Directors and the Company's senior management have consistently been present to handover the awards, congratulate and interact with the winners as well as those present.

Dr. Hans Wijayasuriya, who led the organisation as Group CEO from 1997 to 2016 and is now the Chief Executive Officer – Telecommunications Business and Group Executive Vice President of Axiata Group Berhad said: "MTI has remained a vital partner to the Dialog Awards, developing and continuously improving the awards process, and serving as a referral external evaluator. The Dialog Awards epitomises several of Dialog's core values, including but not limited to, exceptional performance, uncompromising integrity, teamwork, and service from the heart. Dialog's leadership in Sri Lanka's telecommunications industry is derived in no small measure from the excellence of our people. The Dialog Awards celebrates the best of best with respect to individual as well as collective achievement."

With a market value of Rs. 103.8 billion and a customer base of 16.2 million users, Dialog moved from the fourth entrant to market leader in the telecom and technology domains, one of the most fiercely competitive industries in Sri Lanka. Staying true to its vision, Dialog excelled in introducing the latest innovative technologies in the country, enabling Sri Lankans to experience 'The Future. Today'.

"The reason why the Dialog Awards is a world-class initiative is because you have the entire senior management team, inclusive of those at the helm, taking part in a long and thorough process to evaluate projects put forward by employees from almost every level of the organisation, including presentations by employees who are then analysed and challenged by the senior management on how much their initiatives influenced business performance for the previous year. Furthermore, the entire process is transparent so as to guarantee fairness in judgment," added Cader.