Dhashma Karunaratne Immediate Chairperson of WiLAT SL and Commercial and Marketing Manager of South Asia Gateway Terminals (SAGT) Port of Colombo was awarded the Gold award for Supply Chain and Logistics at the recently held WIM TOP 50 Professional & Career Women awards 2019.
Supported by International Finance Corporation (IFC) of World Bank Group and Australian Aid WIM Top 50 awards is the flagship event of Women In Management (WIM) which was founded by Dr. Sulochana Segera who's passion for women empowerment continues to propel the women's agenda in the nation. The award ceremony was held for the ninth occasion on Friday 6 September, at Shangri-La Colombo.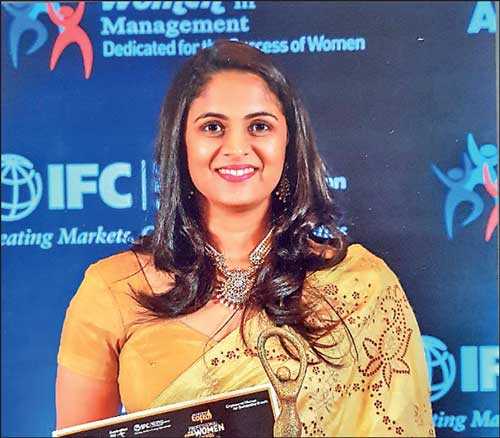 Gayani de Alwis the Founding Chairperson of WiLAT Sri Lanka and current Chairperson of Chartered Institute of Logistics and Transport (CILT) Sri Lanka noted that WiLAT Sri Lanka has been a benchmark for WiLAT global, which has a membership of 1,800 members across 20 countries. She commended the contribution of Dhashma towards WiLAT and further stated that it's noteworthy that four WiLAT office bearers have been awarded with WIM Top 50 award in the past three years, which is a testimony of the commitment of WiLAT towards women empowerment in Sri Lanka.

Speaking of this achievement Dhashma said that she dedicates this award to all females and males who relentlessly work towards bridging the gender gap in highly male dominated industries, such as Ports and Shipping. She added, "In any industry it is imperative that there's a proportionate representation of the country's population. Here in ports the women representation is a mere 3%. It's imperative that we strike a balance, after all women empowerment is not only a moral obligation it also makes very good economic sense." Dhashma believes that both women and men, each have unique talents and traits, which when pooled together result in a surge in innovation and creativity and assures the sustenance of a country and an economy; a community and an entity.

Dhashma has been recognised for her visionary leadership in WiLAT as the Immediate Past Chairperson and was awarded the most inspiring woman in Ports and Shipping by Singapore based, Global Ports Forum this year. Her aspirations for women empowerment and youth development has been showcased by many global entities such as DP World, AP Moller Group, and has spoken at leaders' conclaves such as SAARC. She is currently serving in a high-level advocacy group formed by IFC named SheWorks.

WiLAT is the women's forum of Chartered Institute of Logistics and Transport (CILT) and is part of an ever-expanding global network. WiLAT is considered as a live wire of the institute. The main objective of WiLAT is to promote and encourage the art and science of logistics and transport among women. Currently WiLAT is present in 20 countries with over 1,800 members in the global network, which is expanding rapidly. WiLAT Sri Lanka is one of the five pioneering fora of the global network and was established on 21 March 2013.

WiLAT membership is open to all women working in public and private sector and in academia in the areas of logistics, transport, supply-chain and supporting functions in organisations. WiLAT Sri Lanka forum provides a platform for women engaged in the industry to maximise their true potential and has played an active role in promoting gender diversity in the logistics and transport sector through value enhancing activities.