The Chamber of Young Lankan Entrepreneurs (COYLE) will hold a full day program titled "Best of Harvard for Sri Lankan CEOs and their Executive Teams" on 24 April from 8.30 am to 4 pm at the Oak Room, Cinnamon Grand, Colombo.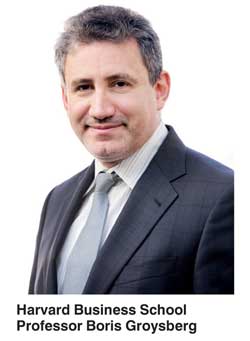 The featured keynote speaker at this forum will be renowned Harvard Business School Professor Boris Groysberg, who will reveal the secrets of success of world class business leaders and the skills required for great leadership. The program will be followed by cocktails and fellowship with Professor Groysberg.

This program is designed to teach leadership and management practices that impact organisational effectiveness in a dynamic industry, to understand how leadership and management systems can support strategy and how best to use tools and techniques to improve organisational execution and performance.

Professor Groysberg will explore areas that will develop your ability to innovate, think strategically, and gain a competitive advantage for your organisation, through this intensive business strategy and leadership management program. Participants will be able to explore the latest business theories and strategic tools through hands-on exercises, interactive lectures and dynamic discussions — and master the fundamental thinking that will set them apart as strategic leaders.

The program will be attended by some key corporates in the Colombo business circle who are partnering with COYLE in this very important intermediary role in the business sector, namely: John Keells Holdings PLC, DFCC Bank, Brandix Lanka Limited, Hayleys Advantis Limited, McLarens Holdings Limited, Diesel & Motor Engineering PLC, Vision Care Optical Services Pvt. Limited, Carson Cumberbatch PLC, Commercial Bank of Ceylon PLC, Laugfs Holdings PLC, Tagros Chemicals India Pvt. Limited, Epic Lanka Pvt. Limited, Expolanka Holdings PLC, Freight Links International Pte Ltd. & Ceylon Tobacco Company PLC.

COYLE Chairman Dinuk Hettiarachchi said, "The role of the Chamber is to be the advocate and voice of the business sector at every level of participation, to the benefit of the local business community. We strive to create solutions for issues affecting businesses. At this program, participants will learn why improving organisational execution is so vital and will receive valuable insights that will help increase their business acumen. Prof. Boris Groysberg's secret strategic management skills will certainly help them think big in their respective business environments."

Attached to the Organisational Behaviour Unit at the Harvard Business School, Prof. Boris Groysberg teaches extensively in Executive Education programs. Professor Groysberg teaches in various other Executive Education programs, such as the "Owner President Management" (OPM) program. Professor Groysberg's research investigates how a firm can be systematic in achieving a sustainable competitive advantage by leveraging its talent, and how individuals can achieve stardom. He is the author of Chasing Stars: The Myth of Talent and the Portability of Performance (Strategy + Business magazine's top book pick in the Human Capital category for 2010), and co-author of Talk, Inc.: How Trusted Leaders Use Conversation to Power their Organisations. Professor Groysberg has also published more than 100 articles, notes, and case studies on how firms develop, hire, retain, and utilise their talent. He has won numerous awards for his research on managing human capital. The Professor sits on many director boards and works with companies from around the world.