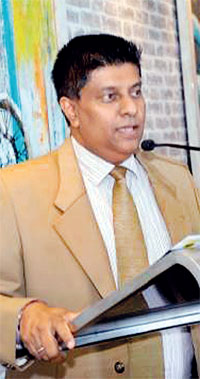 IIHRM MD/Chief Consultant Ranjeewa Kulatunga
---
The Centre for Creative Leadership (CCL), a top-ranked, global provider of leadership development, and the Intercontinental Institute of Human Resource Management (IIHRM), a leading organisational development firm, are joining forces to make high-impact leadership development more accessible across Asia and the Middle East.

The partnership will focus on developing and delivering versions of CCL's award-winning content and products, while leveraging IIHRM's extensive networks and expertise in the Middle East, Africa and Southeast Asia, with a special initial focus on Saudi Arabia, Sri Lanka, and Thailand. Offerings will include CCL's premier content on feedback, influence, learning agility and change, including a range of in-person and virtual delivery programs for leaders at all levels.

"IIHRM is a uniquely positioned organisation with world-class consultants and, like CCL, has a mission focused on helping leaders and organisations reach their full potential," CCL President and CEO John R. Ryan said. "We look forward to partnering with them in accelerating the development of leaders in growing, dynamic markets in Asia and the Middle East."

"We are indeed glad to be part of this laudable initiative working together with CCL – the globally renowned leadership transformational flagship brand, best known for enabling leaders realise their inner potential to turn disadvantages into winners, thrive under unimaginable pressures and perform diverse tasks on demand makes them uncommon assets", said IIHRM MD/Chief Consultant Ranjeewa Kulatunga.

"The partnership will continue to add value to our clients in global markets predominantly in Sri Lanka, Saudi Arabia, Thailand and South Africa along with our other global partners Gartner SHL, IPMA-HR.USA, TTG, Orenda, MCPA and more," concluded Kulatunga.

The CCL is a top-ranked, global provider of leadership development that transforms individual leaders, teams, organisations and communities through human-centred experiences. Its array of cutting-edge solutions is steeped in extensive research and experience gained from working with hundreds of thousands of leaders at all levels.

Ranked among the world's best leadership development providers by TrainingIndustry.com, CCL has offices in Greensboro, NC; Colorado Springs, CO; San Diego, CA; Brussels, Belgium; Moscow, Russia; Addis Ababa, Ethiopia; Singapore; Gurgaon, India; and Shanghai, China.

The IIHRM is a leading human resource and organisational development centric management consultancy house, incorporated in the Democratic Socialist Republic of Sri Lanka, with experienced consultants. IIHRM works across 27 countries on three continents, partnering with organisations to advocate a triple-bottom line powered by the incredible human potential.