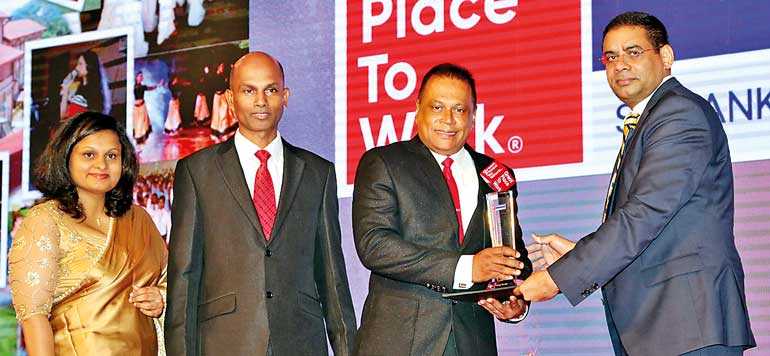 CBL Plenty Foods Director/CEO Shammi Karunaratne receiving the award from National Human Resource Development Council Sri Lanka Chairman and Hatton National Bank Chairman Dinesh Weerakkody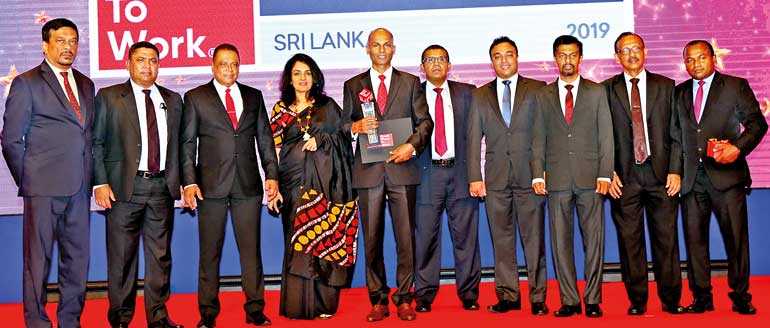 CBL Plenty Foods Ltd., manufacturer of Samaposha, Sri Lanka's favourite breakfast cereal, was recognised for its commitment to its people and culture, earning a place among the 25 Best Workplaces in Sri Lanka for 2019.
This ranking, carried out by the Great Place to Work Sri Lanka, is based on detailed employee feedback collated through the Trust Index Survey and the Culture Audit questionnaire and places CBL Plenty Foods as one of the most preferred employers in the country.

Plenty Foods Ltd., a fully owned subsidiary of CBL Group, has always focused on building a strong team and work culture. This winning work culture is performance based and strengthened by core values of caring, quality, innovation and integrity. Creating a healthy and happy workplace has always been the company's focus. Today, the culture at CBL Plenty Foods has transcended into a family culture which is strong and unified with employees who go the extra mile to achieve organisational goals.

The Great Place to Work analysis showed a distinctively high level of pride across the organisation among the CBL Plenty Foods Family. This has resulted in a sense of belonging, a sense of great pride, and drives employees to innovate and produce high quality products towards a greater cause.

The survey also acknowledged the unity and diversity practiced within the organisation. Bridging many diverse communities, CBL Plenty Foods fosters a multicultural, multi-ethnic, multi-religious and a gender equal workforce. Equal opportunities are ensured for all employees from all walks of life and the company provides strong growth opportunities with diverse representation across all cross functional teams.

Culture is understood as a dynamic organism that must develop with the growth of the organisation with everyone actively engaged in working together. At CBL Plenty Foods, senior and middle managers have regular interactions and conversations across all teams including sales, marketing, agriculture, manufacturing, etc., fostering empathy and mutual understanding where employees own their decisions which lead towards greater success for the company.

"We are extremely pleased to have received this prestigious award. With over 500 employees and growing, we are proud of the motivated and passionate workforce we have created over the years. All our employees, from farmer gate to the corporate office have an important role to play in the success of our business. We believe these honours lead to tangible business benefits with our consumers and also help to recruit, retain and engage talented employees," said CBL Plenty Foods Ltd. Director/CEO Shammi Karunaratne.

He added that this recognition of the company culture and way of life is a great motivation for the company's employees.

CBL Plenty Foods is dedicated to providing nutrition to the entire nation – especially to younger generations and building better nutrition practices. Its popular brands such as Samaposha are champions of the cause to fight malnutrition caused by poor eating habits and lack of awareness.

Campaigns like 'Breakfast eka hari wadagath' work to educate the nation on better nutrition practices and focuses on inculcating healthy breakfast and nutrition habits across the nation. Promoting local agriculture and adding value to the local supply chain is also an integral part of the company's operations and CBL Plenty Foods works with its extended family of over 12,000 farmers and their families to provide comprehensive support through guaranteed purchase and pricing schemes, healthcare, technology and knowledge sharing.

This culture of care has been one of the strongest drivers of the company's success and employee engagement.