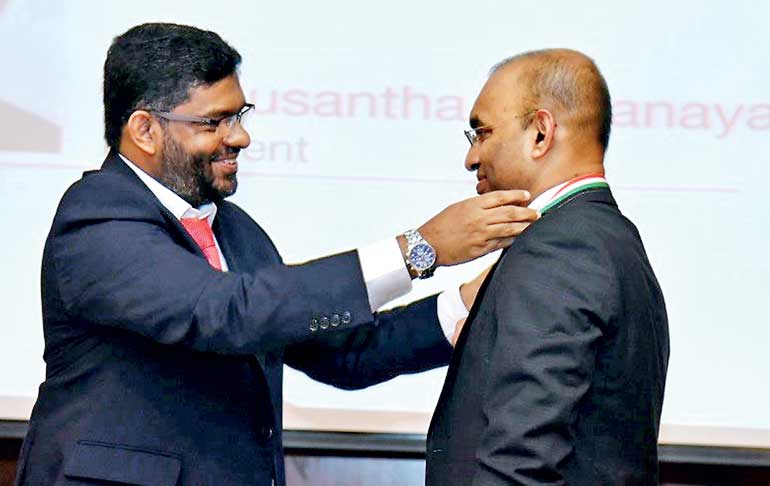 Susantha Dissanayake was elected at the Kuwait Chapter of the Institute of Chartered Accountants of Sri Lanka (CA Sri Lanka) at its third Annual General Meeting held at the Crowne Plaza in Kuwait.

The Institute of Chartered Accountants of Sri Lanka (CA Sri Lanka) is one of the largest professional organisations in Sri Lanka which provides insight and leadership to the Accountancy and Finance profession in Sri Lanka as well as globally.

With the aim of continuous strengthening of global presence, The Kuwait Chapter was established on 21 November 2014 under the patronage of Sri Lankan Embassy in Kuwait and later admitted to and formally recognised by the CA Sri Lanka on 17 February 2015 as its official Chapter of the State of Kuwait.

The third Annual General Meeting held under the patronage of Kaandeepan Balasubramaniam, the Sri Lankan Ambassador to Kuwait, was also attended by the President of the Institute of Chartered Accountants of Sri Lanka (CA Sri Lanka) Jagath Perera who travelled from Colombo to grace the occasion.

Dissanayake succeeds Rizqi Rasooldeen who said that the elections are being held annually and the president holds office for period of one year to give way to new additions.

The AGM proceedings were conducted by General Secretary Fariz Ziard and as a part of the democratic election process in line with the Chapter's bye laws, new office bearers for 2018 were elected unanimously as under;

President – Susantha Dissanayake, Vice President – Pubudu Dodampalage, General Secretary – Riyaz Jamaldeen, Treasurer – Mohamed Rilwan, Mohamed Imthaz, Tharanga Sameera Perera, Suranga Fernando, Sanuja Karunarathna and Akbar Fimran were elected as executive members.

Rizqi Rasooldeen, outgoing Kuwait Chapter President, Susantha Dissanayake, newly-elected Chapter President, Ambassador of Sri Lanka to Kuwait and the Patron of the Chapter Kaandeepan Balasubramaniam and chief guest Jagath Perera also addressed the gathering.

Sponsors of the event included ALAFCO, ALMAILEM Group, Amana Bank of Sri Lanka, Commercial Bank of Sri Lanka, Bahrah Trading Company, Bahrain Exchange Company, Caribou Coffee, MIT Global, Grant Thornton Kuwait, HEISCO, KPMG Kuwait, Travel Club and Warba Medical Supplies were all awarded with a token of appreciation.

Organising Committee Chairman Riyaz Jamaldeen delivered the vote of thanks and the event was compered by Sanjeewa Senarathna who is a member of the Chapter.