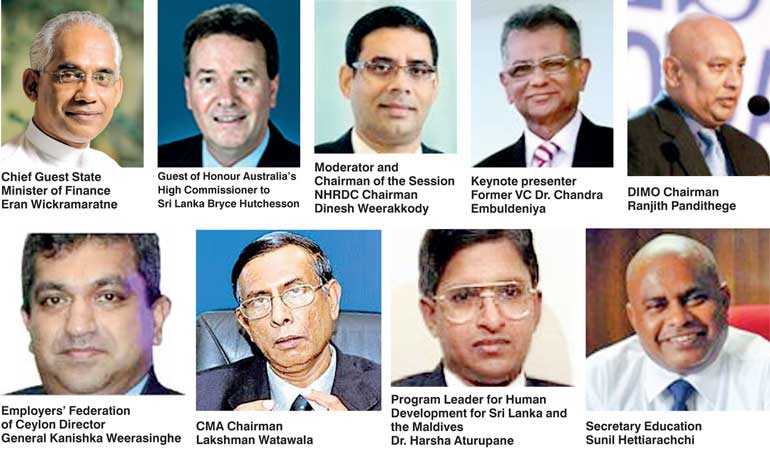 The National Human Resources Development Council of Sri Lanka (NHRDC) together with the Institute of Chartered Accountants of Sri Lanka (CASL), Daily Financial Times and the International Chamber of Commerce Sri Lanka (ICC) have organised a discussion forum to facilitate the preparation of the annual budget 2019/20 for human capital development.

The proposals for the Budget Forum have been prepared by taking an analytical approach using past data, perspectives and outcomes of several NHRDC panels that worked on education and skills related issues from 2015-2018. The aim of the session is to find answers to two far-reaching questions:

What knowledge, skills, attitudes and values will today's students need to thrive and shape their future?

How can Educators and stakeholders develop these knowledge, skills, attitudes and values effectively?

This forum therefore will seek insights on how the scarce funding resources should be distributed in the key areas of human capital development. This forum constitutes an assembly of experts from within Sri Lanka and outside who will deliberate on the pros and cons of what and where these funding should be spent. While there are many targeted areas of learning, there is also a distribution of areas differentiated by the learning age of the population and the purpose of learning. NHRDC Chairman Dinesh Weerakkody says, "The skills gap is real and can only be resolved through the collaboration of employers, educators, workforce and policymakers."

The session will be held on 24 July 2018 from 9:30 a.m. to 11:30 a.m. at the Institute of Chartered Accountants of Sri Lanka, Malalasekara Mawatha, Colombo 07. State Minister of Finance Eran Wickramaratne and Australia's High Commissioner to Sri Lanka Bryce Hutchesson will participate and speak at the event. A presentation on the proposed 12 HR Proposals covering the education and TVET sector by Dr. Chandra Em-buldeniya, Council Member, NHRDC and Founder, Vice Chancellor Uva Wellassa University will be the highlight of the event.

Dinesh Weerakkody will moderate a session to discuss the 12 Human Capital Development proposals. The panel will include CMA Chairman Prof. Lakshman R. Watawala, former Vice Chancellor Dr. Chandra Embuldeniya, World Bank Lead Economist Dr. Harsha Athurupana, DIMO Chairman Ranjith Pandithage, EFC Director General Kanishka Weerasinghe and Secretary Education Sunil Hettiarachchi.