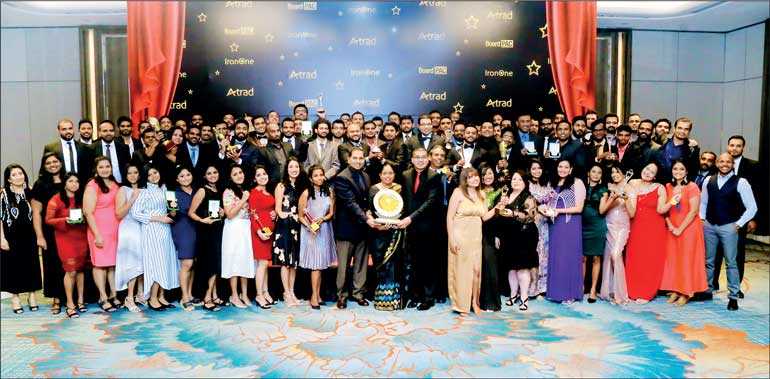 ---
BoardPAC, Asia's largest and No. 1 market share board governance solution and a popular worldwide brand with multiple accolades globally, and IronOne Technologies, an export-focused innovative IT products and solutions company, operating three key business units –ATrad, a comprehensive broker solution and capital markets suite; Infosense, a provider of innovative business analytics; and Bespoke mobile solutions and services, wins the prestigious Great Place to Work certification that was awarded recently by independent analysts at Great Place to Work Sri Lanka.

Corporates earn this award based on extensive ratings provided by its employees in an anonymous survey and a culture assessment conducted by the Great Place to Work Institute, upon having achieved the globally accredited cut off scores.

Great Place to Work provides the benchmarks, framework, and expertise needed to create, sustain, and recognise outstanding workplace cultures; and is the global authority on high-trust and high-performance workplace cultures. This is carried out via proprietary assessment tools, advisory services, and certification programmes, including a list of best workplaces and workplace reviews.

BoardPAC's and IronOne Technologies' recent success was recognised by their employees as an organisation that fosters respect, trust and fairness in their day-to-day work culture, with an attitude towards grooming the next generation, and a great leadership team to back them up.

Co-Founder and CEO of BoardPAC's and IronOne Technologies, Lakmini Wijesundera said, "The secret to our local and global success is credited to our past and present employees. I am overjoyed that we in the journey of our success, managed to make BoardPAC and IronOne Technologies Great Place to Work Certified.

Great Place to Work – Sri Lanka CEO Kshanika Ratnayake said, "We are proud to have BoardPAC and IronOne Technologies certified as Great Workplaces, especially in their first attempt, and we wish them all the success in their future endeavours."

BoardPAC is a globally commended multinational that provides board meeting automation solutions to over 50,000 users worldwide. The company covers over 20 countries including Australia, Hong Kong, India, Indonesia, Malaysia, Singapore, South Africa, Sri Lanka, and United States.

ATrad is IronOne's comprehensive broker solution – an innovative software product offering turnkey services to stock broker firms including online trading and a broker back-office solution. Having secured market dominance with a client base composing 85% of broker firms on the Colombo Stock Exchange, at present ATrad makes powerful strides in the Indian and African regions.

IronOne's InfoSense, provides large banks with a clear snapshot of the bank's performance, providing a wide range of data on NPAs, advances and deposits, while including overall performance bank-wise, region-wise, product line-wise and much more, working seamlessly with both iPad and tablet devices.

IronOne's bespoke mobile solutions and services provides niche mobile development services to large US branded firms such as, Victoria's Secrets, Ralph Lauren, Unilever Global, Tory Birch and Hollywood Reporter.

Maxis, Deloitte, XL Axiata, Prudential, Bumi Armada, RHB Banking Group, Hong Leong Banking Group, Bursa Malaysia (Stock Exchange of Malaysia), Affin Bank, Astro, Bombay Stock Exchange, Power Grid Corporation of India, IDBI Bank, Container Corporation of India, LIC Housing Finance Limited, Colombo Stock Exchange, Bank of Ceylon, Carson Cumberbatch PLC, John Keells Holdings, Sri Lanka Telecom, Hemas, MAS Holdings, and Colombo Stock Exchange (CSE) are some of BoardPAC's and IronOne Technologies' other success stories across the globe.