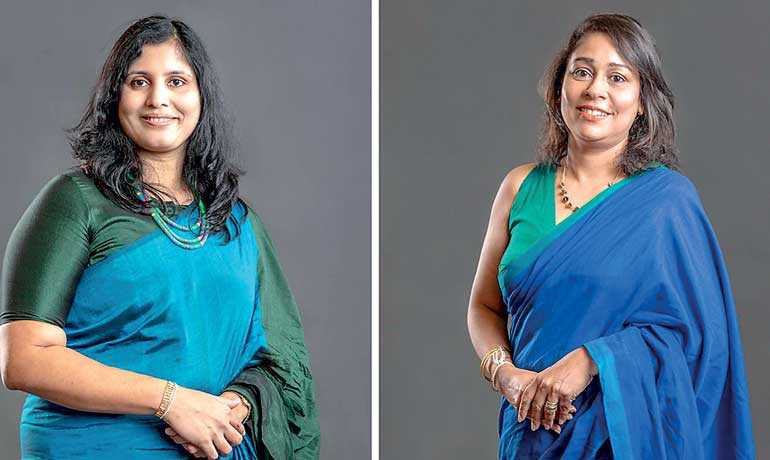 Baurs Director - Finance Pavithra Samarasinghe (left) and Director - IT Anoja Basnayake
---
Expressing its commitment to gender equality and women empowerment, one of Sri Lanka's leading diversified business group A. Baur & Company Ltd., also known as Baurs, celebrates International Women's Day by recognising its importance of having women in the board and executive leadership positions.

Various studies have found out that women are still underrepresented especially the higher they go up in the corporate ladder. Baurs takes great pride in being one of the many companies challenging the status quo and understanding that gender disparity is a company-wide effort. And what better way than celebrating and recognising the accomplishments of two of its Directors – Director IT Anoja Basnayake and Director Finance Pavithra Samarasinghe. 

Whilst staying true to its core values and purpose, Baurs continue to evolve with contemporary and emerging business landscapes. The company embraces and promotes a culture that speaks volumes on equality, diversity, inclusivity and innovation.

Anoja Basnayake's journey with Baurs spans over 12 years, having joined as Manager – IT in 2008. She now leads the group digital transformation strategy at Baurs as Director – IT. 

"In my journey with Baurs I have always been inspired by the fact that women are actively encouraged to take bold steps and take on every opportunity that will help build their self-confidence. One could always be assured that their views are well heard and contributed to decision making irrespective of their gender.

"I'm always excited to engage and work with the wonderful people at Baurs. The diversity and inclusivity is rich and they truly understand the strengths and contribution women bring in to the workplace. The mutual respect and care I find here always aspire myself to grow stronger. I was given the opportunity to take on more responsibilities and oversee more business functions and the continued guidance, training and development I received at Baurs helped me become who I am today."

Anoja has previously worked with Brandix, PricewaterhouseCoopers and Hayleys Group. She is a board member of Project Management Institute (PMI) Sri Lanka Chapter and SAP User Group, and a Member of the Sri Lanka Institute of Directors (SLID).

Celebrating her 20th anniversary with Baurs this year is Pavithra Samarasinghe. Pavithra is instrumental in leading the company's financial position, growth and long-term sustainability as Director – Finance. 

"I truly believe that diversity brings a lot of value to any company. I should know because I work at Baurs. I've never been discriminated nor deprived of any opportunity or benefit throughout my long-standing career. I am no exception, everyone here is treated the same irrespective of their gender or status.

"Women are extremely good at building relationships, multi-tasking and negotiations. Many companies are realising this and paving way for women to take on key leadership positions. There is nothing holding back women from unleashing their potential and reaching to the top with necessary competencies, integrity and the right attitude. Baurs believes in promoting a healthy work-life balance which in my opinion is pivotal for women in workforce. There is a lot of empathy and encouragement across all levels."

Pavithra Samarasinghe is a Chartered Global Management Accountant (CGMA) and associate member of CIMA UK and CMA Sri Lanka, and holds an MBA from the University of Colombo. She is also a member of SLID.