By Chanaka Palliyaguru
On 28 February, the Association of HR
Professionals (AHRP) together with the Society for Human Resource Management (SHRM) will inaugurate the 'HR Think Tank of Sri Lanka', an alliance of senior HR professionals to collaborate and uplift the standards of the HR fraternity in Sri Lanka. The event has created a lot of buzz. In case you don't know what all the excitement is about, AHRP President and Brandix Group Chief People Officer Ishan Dantanarayana agreed to answer some questions.


Q: How has HR as a discipline evolved over the past 10 years?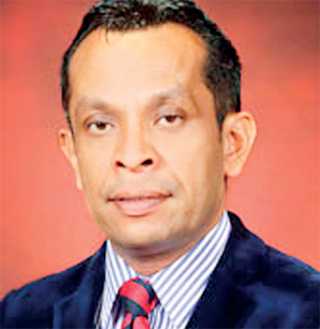 AHRP President and Brandix Group Chief People Officer Ishan Dantanarayana
Today's VUCA (Volatile, Uncertain, Complexed and Ambiguous) world is tech savvy,andit has changed the way businesses operate. China, an Asian country, has emerged as a major global economic power. The world is becoming smaller through connectivity and theubiquitous access to social media has tremendously improved information dissemination. Today, the movement of talent is no longer among the organisations or countries, but across geographies. Due to the scarcity of talent caused by free movement of talent, the war on talent is now infullswing. From personnel administration to being a critical business decision maker, HR has evolved phenomenally. There is an increased focus on organisational branding to attract the besttalent and then to retain. Organisationsembrace diversity and offer flexible working arrangements. The volatile business environment puts pressure on succession planning, and process dependability more than ever. Also, HR has to enable creativity and innovation, which is a high-value asset to any organisation. Being agents of change, HR plays a key role in aligning leadership behaviour to the ever-changing organisational goals and values.

Today, HR relies onsystems and big data to manage workflows and to make data-driven decisions. Technologies such as Robotics, and AI (Artificial Intelligence) will further transform HR. Big Data has reshaped talent scouting,and the way organisations understand people dynamics. Employee engagement and experience (how people experience the organisation)have evolved as essential concepts in HR, making a case for HR tohave stakes in social networks and media.


Q: What are your thoughts on the HR fraternity in Sri Lanka at the moment?

HR in Sri Lanka has evolved immensely. However, we need to adopt global best practices and bring in the latest knowledge and insights into HR by opening up learning opportunities. Many HR professionals are unaware of competency-based HR education opportunities such as the globally-recognisedprogramsoffered by the Society for Human Resource Management (SHRM), the largest HR organisation in the world.

Also, I seemore space for us to grow in terms of collaboration, networking and knowledge sharing. Thiswill enhance our strength allowing us to contribute further to organisations and the country,as a fraternity.

HR professionals must also familiarise themselves with theFinance, Marketing, Supply Chain, Operations functions so that they can better engage with their peers across functions.

In terms of personal traits, humility and approachabilityplay a vital roleso that employees across the hierarchiescan approach and build trust with HR professionals with ease.


Q:Tell us about AHRP, the Association of HR Professionals?

AHRP is the only professional network of HR practitioners in Sri Lanka, and it brings together practising HR professionals. The focus of this organisation is to represent the practising HR professionals and to influence the people-related matters, and related legislation in Sri Lanka. Also,AHRP has partnered with leading global organisations that can add value to the HR fraternity, so that we are up to date with the best practices and new knowledge as a fraternity.


Q:What is the HR Think Tank?

'HR Think Tank' is an initiative that will be launched by AHRP together with the Society for Human Resource Management (SHRM), the largest HR organisation in the world. The 'HR Think Tank' bringstogether the top HR professionals in the country to brainstorm key issues in HR, business and thecountry. The event will platform invitees from different countries, which will further enrich the discussions, allowing us to disseminate knowledge and build professional relationships with them.


Q: What can the country expect from this initiative?

The HR Think Tank aims to harness the collective thinking of HR professionals, home and beyond.Thiswill give us a platform to discuss and find solutions to challenges faced by the HR fraternity in functions such as talent attraction, development and retention. Sri Lanka, though small by territory, has an attractively intelligent workforce and boasts a high literacy rate. This event will also showcase Sri Lanka as a talent hub for HR professionals, who can work anywhere in the world.