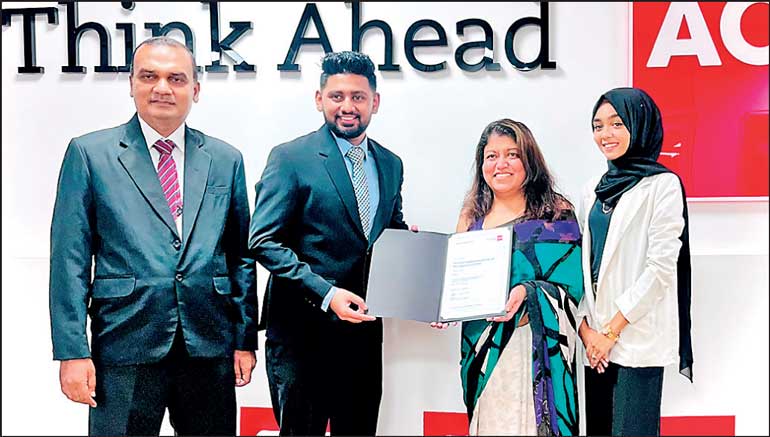 The PPIM team with ACCA Head of South Asia Nilusha Ranasinghe at the MoU signing
---
The Association of Chartered Certified Accountants (ACCA), the globally recognised professional finance qualification endorsed by many employers worldwide, has designed a special program that assures their learning providers meet and demonstrate challenging performance targets, representing best global practices in the provision of ACCA course tuition and support. The ACCA approved learning partner status comprises of three levels of recognition, which include Platinum, Gold and Silver respectively.

ACCA's Approved Learning Partner, PPIM, was recently awarded the prestigious Gold Approved Learning Partner status by ACCA. This means that PPIM has met a range of performance targets covering the institution's overall management and more specifically, its ACCA course management and delivery. This places them as a recognised gold provider of outstanding accountancy education, where the institute will be featured on ACCA's Tuition Provider directory which students around the globe will have access to when deciding where to get their accountancy qualification.

"The Gold status is granted to the tuition providers that meet ACCA's high performance standards and gains ACCA's confidence to recommend to students, after assessing the institution against challenging quality assurance measures and performance indicators, including the evaluation of student feedback, tutors, facilities, mock exams and much more and Premier Partners has met our strict criteria for this Gold training status," explained the ACCA Head of South Asia Nilusha Ranasinghe. She further cited that, "With high calibre learning delivery being a part of our criteria from our learning providers, we look forward to strengthening our relationship with Premier Partners to train and develop the future finance professionals needed by businesses and the public sector."

PPIM Managing Director Ramly Saly stated, "We are immensely proud of the efforts made by both our staff and students, which has led us to receiving this great recognition and award. This is an upgrade from our previous Silver Learning Partner status and this progress is primarily due to the high level of quality that we have maintained throughout. This recognition brings with it plenty of great benefits which we will be taking advantage of, to offer students across the country a unique learning experience that is backed by achieving a world class qualification, which will help uplift their careers".

PPIM CEO Ziyan Mohideen highlighted the standard of excellence which is driven by its proven panel of professional lecturers. Led by Ziyan himself, an acclaimed top-notch lecturer for ACCA in Sri Lanka, is the expert panel of lecturers at PPIM among whom are, Navin Karunadasa, Salman Faris, Lahiru Karunarathna, Muhammad Nazeel, Shihan Haniff , Sharfa Riyaz, Onell Waneesha, Amaan Fazeer, Thasweer Faris, Maryam Ali , Nilakshi Beulah, Apsara Sarathchandra and Kanchana Amarasinghe with power packed credentials behind their names.

Ziyan Mohideen also declared that, PPIM possesses a winning combination geared to back any student to the pinnacle of success. "Another significant factor of our students is their attitude to education and success. Either by choice or by design, students of PPIM are of a different calibre. I can proudly state that some of the finest gems enter our portals and after passing, embark on their careers as truly sparkling diamonds. Our ACCA programs are designed to offer professional qualifications and a UK degree from Oxford Brookes University in just two and a half years. If students pass successfully at each level – success is guaranteed in this incredibly short time span. Needless to say, many of our students have achieved this."

With the key vision of ACCA for 2022 being to develop a knowledge-based economy by building the accountancy profession in the country, ACCA looks forward to working with its Approved Learning Partners to open opportunities in the accountancy profession for new and current students across the country.