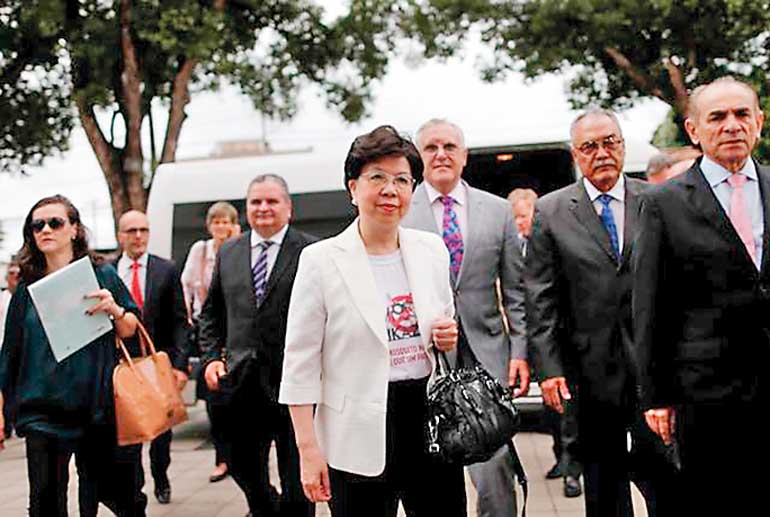 World Health Organization (WHO) Director-General Margaret Chan (C) and Brazil's Health Minister Marcelo Castro (R) arrive at the IMIP hospital in Recife, Brazil - Reuters
Reuters: The head of the World Health Organization warned Wednesday that the Zika outbreak would likely worsen before nations besieged by the mosquito-borne virus linked to thousands of birth defects in Brazil see relief.

Director-General Margaret Chan made the comments at the end of her two-day visit to Brazil, the country at the epicentre of the Zika crisis.

"Things may get worse before they get better," Chan said at a news conference in Rio de Janeiro. "Don't be surprised to see microcephaly reported in other parts of Brazil."

As yet, Brazil's Zika outbreak has been concentrated in the north-eastern part of the nation.

Much remains unknown about Zika, including whether the virus actually causes microcephaly, a condition marked by unusually small heads that can result in developmental problems. Chan underscored that scientists are still working to determine causality between the virus and the birth defect.

Brazil said this week it has confirmed more than 580 cases of microcephaly, and considers most of them to be related to Zika infections in the mothers. Brazil is investigating more than 4,100 additional suspected cases of microcephaly.

After Brazil, Colombia has been hardest hit by Zika infections with the country's health officials reporting on Wednesday a probable case of microcephaly possibly linked to Zika in an aborted foetus.

Colombia has reported more than 37,000 cases of Zika including 6,356 in pregnant women but has yet to have a confirmed microcephaly case linked to the virus. At least 34 countries, mostly in the Americas, have active Zika outbreaks and the virus is expected to spread.

The World Health Organization declared the outbreak an international health emergency on 1 February, citing a 'strongly suspected' relationship between Zika infection in pregnancy and microcephaly. Scientists are also studying a potential link between Zika infection and Guillain-Barre, a rare neurological disorder that can weaken the muscles and cause paralysis.