All over the world, roads are shared by vehicles, pedestrians and other categories of travellers. The continuing evolution of road infrastructure, vehicles and means of transportation have uplifted the levels of economic and social development in many countries.

Yet each year, this very development has proven to be a major cause of increasing vehicle accidents, responsible for the deaths and injuries of millions all over the world. Union Assurance General (UAG) has been investing much of their time and resources in battling this issue which is now identified as the world's 10th leading cause of death.

According to statistics an estimated 1.3 million people die each year on the world's roads. Road accidents have also been identified as the number one cause of death among young people between the ages 15-29. The Global Status Report 2015 on Road Safety by the World Health Organization entails a broadly conducted assessment across 178 countries which show that road traffic injuries are plateauing into a serious public problem.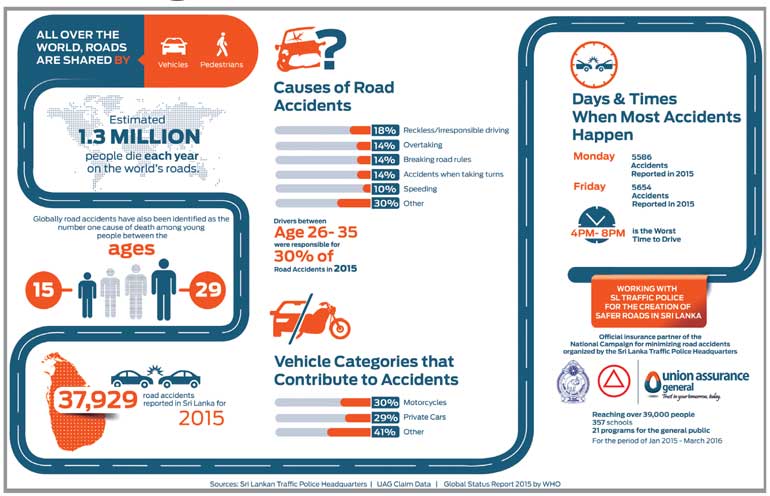 What is perhaps more disturbing is the fact that low and middle income countries bear a disproportionate burden of road traffic deaths. Findings in the study stipulate that 90% of deaths due to road accidents occur in low and middle income countries relative to their level of motorisation, which only accounts for 54% of the worlds registered vehicles.

Sri Lanka being one such country that falls into this category reported 37,929 road accidents last year alone according to the Sri Lanka Traffic Police Headquarters. This in turn had resulted in a death toll of 2,727 people, whereby the age categories of 71 and above and 21-25 reported the most number of deaths.

According to statistics by the Traffic Police Headquarters the leading cause for road accidents is reported to be reckless/irresponsible driving - a staggering 18% has been recorded for the year 2015. Other significant causes of road accidents include overtaking 14%, breaking road rules 14%, accidents when taking turns 14% and speeding 10%. The data also revealed that drivers between the ages of 26-35 were responsible for 30% of the reported accidents during last year.

"During the past five years or so we have seen road accidents become a large contributor to the public loss of lives. Encouraging people to abide by road rules and drive more cautiously has never been more important and we are pleased to be backed by UAG in this regard," stated Senaka Gamage, OIC – Education at the Traffic Police Headquarters.

Digging into this matter a little further, an internal analysis done by UAG with regard to their claim data revealed that the Motorbike category had the highest percentage of reported accidents – 30%, closely followed by private cars – 29%. Other disclosures from this analysis that might be of use to everyday drivers is that Mondays and Fridays are the two worst days to be driving, and the time frame of 4 p.m.-8 p.m. is when the most number of accidents occur. This very detail was further advocated by the Traffic Police Headquarters, whose data revealed that 5,586 accidents took place on Mondays, 5,654 accidents took place on Fridays and 30% of the total accidents reported for 2015 were during 4 p.m.-8 p.m.

Working with the Sri Lanka Traffic Police Headquarters as the official insurance partner of the National Campaign for Minimising Road accidents, UAG conduct island wide road safety awareness programs to curtail the number of accidents that occur on a daily basis due to reckless driving. Over the past year they conducted road safety awareness programs in 329 schools and 36 programs for the general public and in doing so have reached out to more than 39,000 people for 2015 alone.

"Having understood this escalating issue beforehand we have been working closely with the Traffic Police Headquarters since 2012. As an organisation involved in insuring the lives and properties of our communities we believe it to be our responsibility to try and curb these accidents and the ensuing lives lost," stated General Manager – Sales and Marketing Niranjan Nagendra.

Union Assurance General is now a part of the Fairfax Group, a diversified, financial services company with total assets worth $ 42 billion, revenues of approximately $ 10 billion and common shareholders' equity of approximately $ 9 billion. Based in Toronto, Canada the Fairfax Group has a strong foothold in the growing insurance and reinsurance markets of Southeast Asia, USA, Eastern Europe, the Middle East, UK and Brazil.

Sources: Sri Lanka Traffic Police Headquarters, Claim data from UAG and The Global Status Report 2015 on Road Safety by the World Health Organization.