Strongly advocates the need for a general physician for everyone and focus on overall health and wellness
Healthy Life Clinic, which now provides family medical care, diabetes care and health services for corporates, celebrates 10 years of providing and advocating for medical care with a unique and holistic vision.

Founded in 2005, as a diabetes clinic, and now located at No. 10, Deal Place A, Duplication Road, Colombo 3, Healthy Life Clinic has expanded to enable patients to access 25 leading medical specialists from various disciplines. However, it continues to retain and advocate its unique vision relating to medical care – particularly with regard to the need for each patient to have a family physician.

Patients can access general physicians (GPs), paediatricians, eye surgeons, dermatologists, cardiologists, surgeons, dieticians/nutritionists, psychologists, psychiatrists, endocrinologists, physiotherapists and speech therapists via the Healthy Life Clinic. In terms of family medical care, patients of all ages can consult general physicians at the clinic. The clinic also offers all necessary facilities for diabetes patients including diabetes specialists, testing facilities, dietary/weight management and psychological counselling and eyecare. Another emerging focus of this unique clinic is corporate health care, under which it advocates managing and maintaining wellness.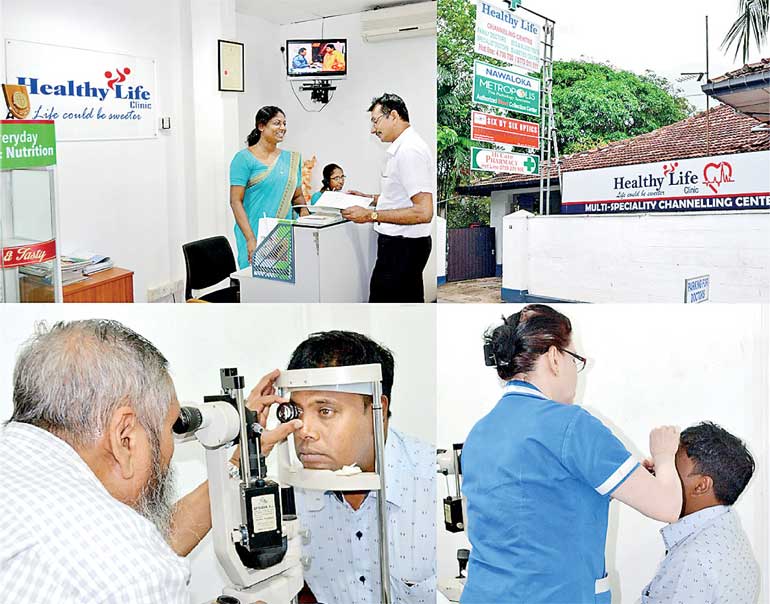 "At Healthy Life Clinic we look holistically at patients and are committed to improving the overall wellness and health of our patients, rather than narrowly looking at only a single ailment," Chief Consultant, Dr. Kayathri Periasamy said. "That is particularly why we strongly advocate the need for each person to have a family physician who would have a good overall idea of the family's medical history etc. and would be able to give proper medical guidance."

Commenting on the unique features of Healthy Life Clinic, Dr. Kayathri said, "Since it is quiet and confortable for my patients, booking is taken over the phone and a very friendly and yet professional service is offered, the patients find the Healthy Life clinic to be very likeable. If they (the patients) like it, my job is easier. I also like the easy communication we have with the GPs and specialists and paramedical services which then allows better, seamless care for my patients."

"While we are constantly looking at expanding our services and providing access to patients to a larger group of experienced medical professionals, we will continue our strong focus on diabetes – the 'silent killer," said Thana Kandiah, Administrative Executive of the Healthy Life Clinic. "During health screenings, we have noted that the prevalence of diabetes among executives of companies is often substantially higher than the national average and this is a cause for concern. Hence over the years we have also started focussing on bringing health and wellness awareness to the corporate sector. We hope that our efforts will contribute towards reduction of diabetes and other non-communicable diseases in Sri Lanka," he added.

Sanjeevani Perera, Healthy Life Clinic's Marketing Executive said, "The customer is our determinator. Our staff are trained to be in-tuned to our customers needs and we are constantly striving to bring convenience and comfort, especially during their times of illness and need."

In commemoration of its 10th anniversary, Healthy Life Clinic will be offering many discounts, special services and awareness programmes for its clients every month, starting from October this year.

As a prelude to this celebration, in September Healthy Life Clinic also offered a 40% discount on a mini health check-up which included the assessment of blood sugar, blood pressure, lipid profile and weight to the people of the surrounding area. These offers, while introducing the clinic to new clients, also enabled patients to enjoy value-for-money health care at Healthy Life Clinic.