eChannelling PLC – the pioneer and largest doctor channelling network in Sri Lanka – announces its partnership with Lanka Hospital PLC – the most accredited hospital in Sri Lanka – to offer a new and unique Self-Help kiosk machine, which was inaugurated by, Lanka Hospital Chairman Dr. Sarath Paranvithana, along with Sri Lanka Telecom and Mobitel Chairman P. G. Kumarasinghe Sirisena in the presence of staff and patients recently.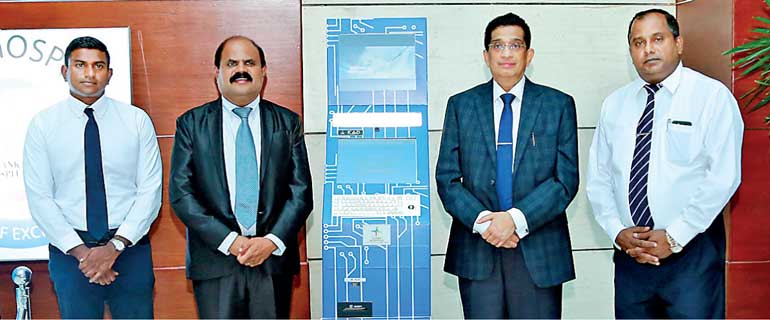 (From Left) Mobitel Chairman P. G. Kumarasinghe Sirisena and Lanka Hospitals Chairman Dr. Sarath Paranavithana unveiling the self-help kiosk machines at Lanka Hospitals


For the first time in Sri Lanka, customers can now channel doctors via the self-help kiosk machine with ease. The easy-to-use self-help kiosk machines are available at Lanka Hospital and can be operated by patients/customers without any hassle to make appointments. This new service will not only enhance convenience but will also serve to increase productivity of both eChannelling and Lanka Hospitals. This is especially an ideal option for walk-in patients or customers who presently channel doctors through channelling counters at Lanka hospitals. The self-help kiosk machines will do away with the need to stand in long queues at no extra cost.

Patients can also make appointments via eChannelling by dialling 225 from any mobile network and 1225 from an SLT phone. Appointments can also be made through the eChannelling Mobile App or through www.echannelling.com.

Mobitel, the National mobile service provider, has taken digital healthcare to the next level by including eChannelling into its portfolio and strengthening its vital position in the telecommunications industry in the country.