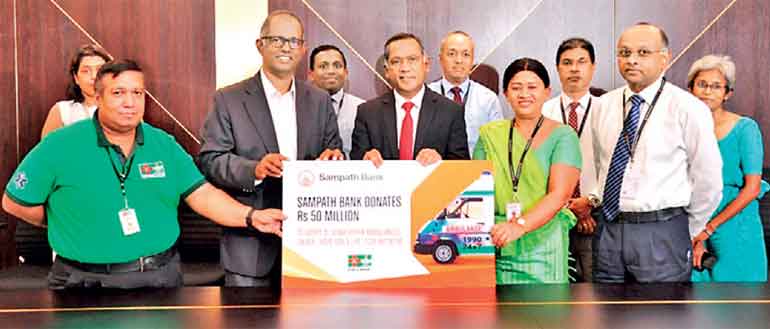 Sampath Bank Managing Director Nanda Fernando (centre) and Managing Director-designate Ayodhya Iddawela Perera hand over Rs. 50 m cheque to support the 'Adopt an Ambulance' project to 1990 Suwa Seriya Foundation CEO Sohan De Silva (far left) and Chairman Dumindra Ratnayaka (second left) whilst members from the bank's corporate management look on
Initiative will ensure maintenance of 10 Suwa Seriya ambulances in all nine provinces
Sampath Bank has handed over a cheque of Rs. 50 million to support the 1990 Suwa Seriya Foundation's 'Adopt an Ambulance' project.

With this timely donation under its 'Hope for a Life' CSR programme, Sampath Bank's contribution will fund the maintenance of 10 Suwa Seriya ambulances in all nine provinces. One of Sampath Bank's key CSR focus areas is extending health assistance to the community and this donation by the bank will enable Suwa Seriya to maintain and improve the services of its 1990 ambulance network for providing lifesaving emergency medical assistance in Sri Lanka. At the Adopt an Ambulance event on 26 April, Chairman, and senior officials of the 1990 Suwa Seriya Foundation accepted the donation of Rs. 50 million from Sampath Bank's senior representatives which comprised the Corporate Management of the Bank as well.

The 1990 Suwa Seriya Foundation introduced the 'Adopt an Ambulance' initiative to secure private sector funding to sustain the services it offers, as the government's assistance for Suwa Seriya was impeded due to financial constraints brought on by the economic crisis in the country. The 1990 Suwa Seriya Foundation provides pre-hospital care ambulance services and emergency response services free of charge to any person. These facilities include providing immediate and effective pre-hospital care in a safe and clinical working environment until a person reaches the nearest healthcare provider. The Suwa Seriya Ambulance Service was established in 2016 with the assistance of the Indian government.