Ninewells Hospital Director Dr. Thiasha Fernando, Dr. Yasas Abeywickrama, Dr. Amila Siriwardana and the team at the Aesthetic and Cosmetic Centre
---
Becomes country's first facility to operate within safety of hospital premise


Staying true to the promise of providing a lifetime of care, Ninewells Hospital unveiled their state-of-the-art Aesthetic and Cosmetic Centre this month; becoming the first in the country to do so within the safety of a hospital space.

The centre, which caters to both the surgical and nonsurgical needs of clients and is equipped with state-of-the-art medical equipment, multiple consultation rooms, procedure rooms, a VIP lounge and retail space, was declared open by Access Group Chairman Sumal Perera.

"Following our repositioning last year as a woman and childcare hospital we expanded our services to offer obstetrics, gynaecology, paediatrics and fertility. Aesthetics and cosmetics is another area which we believe complements these services and which we have identified a clear need for among our clientele," said Ninewells Hospital Director Dr. Thiasha Fernando.

"Our new centre offers both surgical and nonsurgical solutions which are carried out under the care of qualified professionals using world-class technology. In order to ensure patient safety, comfort and effective results within a minimum number of treatments we are proud to say that our facility is equipped with the world's leading brand in medical equipment and laser devices Lumenis," she added.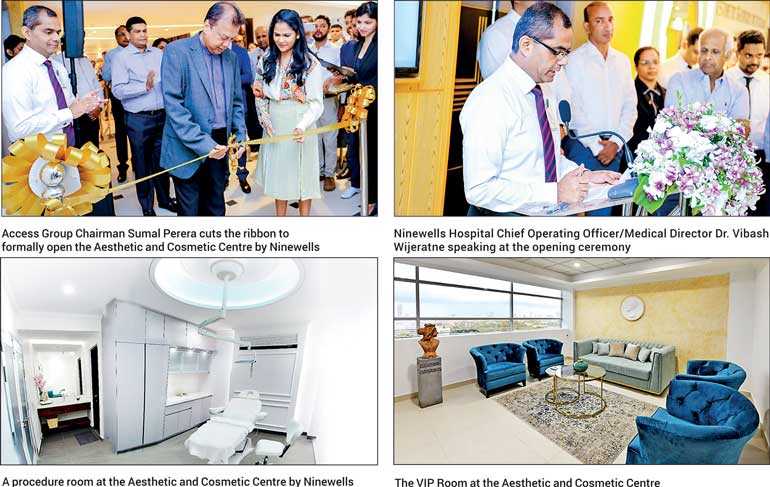 Lumenis is the global pioneer in energy based technology and the leader in the field of minimally-invasive clinical solutions for the Surgical, Ophthalmology and Aesthetic markets. Ninewells Hospital will also become the first in South Asia to use the brand's Nuera Skin Tight Radio Frequency device for body contouring and skin tightening procedures.

Expressing his thoughts, Ninewells Hospital Chief Operating Officer/Medical Director Dr. Vibash Wijeratne said: "Following our repositioning last year, the hospital turned its focus to finding innovative solutions to care for women and children throughout their lifetime. The new Aesthetics and Cosmetics Centre will help women in all stages of their life to look and feel their best and will be especially helpful for mothers who are looking to regain their pre-pregnancy physique following delivery."

The new Aesthetic and Cosmetic Centre offers a wide range of solutions for both women and men at affordable prices.

The centre's nonsurgical procedures include body contouring, stretchmark treatment, skin tightening, botox, PRP, laser hair removal, tattoo and birthmark removal, skin resurfacing, laser facial rejuvenation, chemical peel, micro needling, acne and acne scar management, hair growth treatment, cellulite treatment and wart removal.

Their range of surgical procedures include double chin reduction, fat injections, rhinoplasty, implants, brow lift/face life, cosmetic ear procedures, liposuction, liposculpting, breast augmentation/reduction, abdominoplasty, gynae cosmetic procedures, mummy makeover and male zone.

All procedures are carried out by qualifies Medical Aesthetists, Therapists, Consultant Dermatologists, Consultant Plastic Surgeons, and consultant Plastic and Reconstructive Surgeons.

"A very unique and important feature about this facility is that it operates within a hospital and adds an extra layer of safety for our clients. Additionally, the hospital has dedicated a separate floor for the Aesthetic and Cosmetic Centre to give our clients a sense of privacy and comfort. The centre even has a VIP room and separate access to ensure this," said Ninewells Hospital Marketing Director Nilantha Rathnayake.