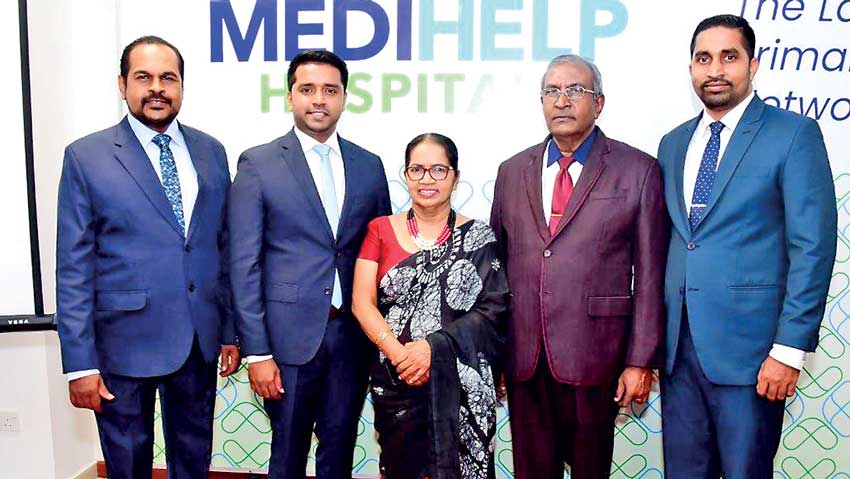 From left: Medihelp Hospitals COO Nishantha Jayamanne, Executive Director Chandika Wijesiriwardana, Director of Laboratories Sunanda Wijesiriwardana, Chairman Lesley Wijesiriwardana and Medical Director Dr. Charitha Wijesiriwardana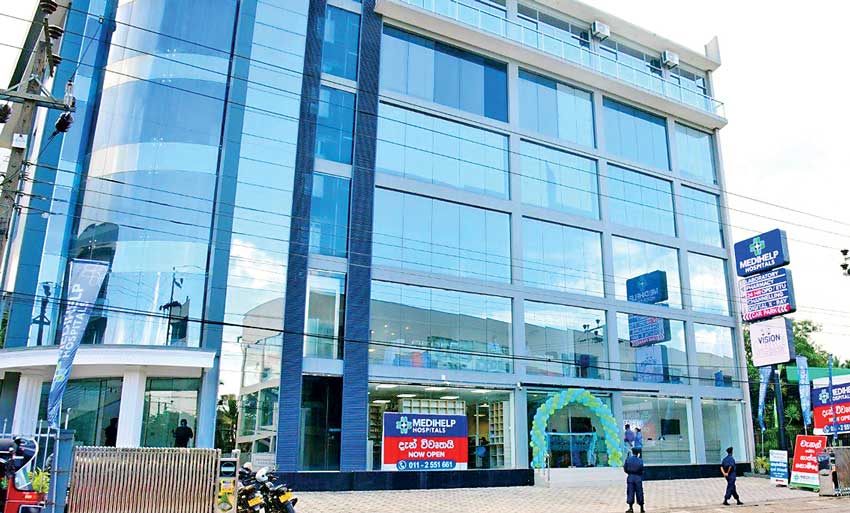 Medihelp Hospitals, Athurugiriya
---
Expanding its reach across Sri Lanka, the country's largest and fastest-growing primary care chain Medihelp Hospitals, recently commenced operations at its latest branch in Athurugiriya. The ceremonial opening was held on 4 September and was attended by the Board of Directors and top management of Medihelp Hospitals, including Chairman Lesley Wijesiriwardana, Director of Laboratories Sunanda Wijesiriwardana, Medical Director Dr. Charitha Wijesiriwardana, Executive Director Chandika Wijesiriwardana, Chief Operating Officer Nishantha Jayamanne, along with a host of distinguished invitees and members of staff.

The state-of-the-art facility houses a fully fitted OPD, five-bedded ETU, laboratory, pharmacy, and dental clinic as well as facilities and equipment to accommodate x-rays, US Scans, Echocardiography, physiotherapy, optometry services, and specialist consultations made complete with spacious, modern waiting areas and car park. Patients are in the care of a highly competent team of qualified and experienced doctors, nurses, paramedics and support staff, who are geared with the latest equipment to ultimately provide unparalleled levels of healthcare to all.

Commenting on the launch, Medihelp Hospitals Chairman Leslie Wijesiriwardana stated: "I am extremely humbled to witness the immense growth of the Medihelp brand over the past 37 years.

"What my wife Sunanda Wijesiriwardana and I started as a small medical diagnostic lab in Horana has expanded exponentially to be able to serve thousands of Sri Lankans with high-quality, affordable healthcare in the most convenient way possible. This is the vision we set out to achieve and we will continue along this winning trajectory as we set in motion our plans to further expand in the near future."

Continuing on the same note, Medihelp Hospitals Medical Director Dr. Charitha Wijesiriwardana said: "We are extremely proud to witness the growth and evolution of the Medihelp Hospitals chain over the years, and also of the significant contribution it has made to the State's healthcare sector. Our new branch in Athurugiriya marks yet another momentous milestone in that journey. "While we are thrilled to expand our footprint rapidly with regard to geographic presence, our focus will always be heavy on regularly vetting and improving the clinical outcomes and safety standards for all our patients as it is every Sri Lankan's right to have access to quality healthcare. Medihelp Hospitals will continue introducing only the best clinical practices and take caution to always adhere to national health guidelines, best clinical practices and protocols as we journey on."

Medihelp Hospitals Chief Operating Officer Nishantha Jayamanne stated: "Athurugiriya is a central town in the Western Province. However, there was a massive void in the region's healthcare ecosystem, where residents often had to travel to Colombo City to access the most important healthcare services they require. Particularly, in the current challenging macroeconomic environment, it is vital that patients in Sri Lanka have access to quality healthcare they require conveniently and quickly.

"This is the vacuum we are looking to fill with our new branch, - offering a gamut of top-notch healthcare services under one roof."

Medihelp Hospitals also integrates numerous digital tools into its portfolio for the convenience of its patients. They offer a live tracking facility to enable patients to track the progress of their appointments to ensure that they do not waste time at the hospital, needlessly waiting for their consultant.

In terms of OPD consultations, patients can access a network of over 300 specialists in general medicine, endocrinology and diabetics, gynaecology and obstetrics, oncology, ENT, cardiology, pulmonology, rheumatology, general surgery, neurology, orthopaedics, paediatrics, gastroenterology, urology, dermatology and cosmetic care, nephrology and ophthalmology. Further, its purpose-built facilities include ample parking, spacious lobbies with comfortable seating areas and options to book appointments over the phone, which are all facilities equivalent to or better than other city-centric hospitals.