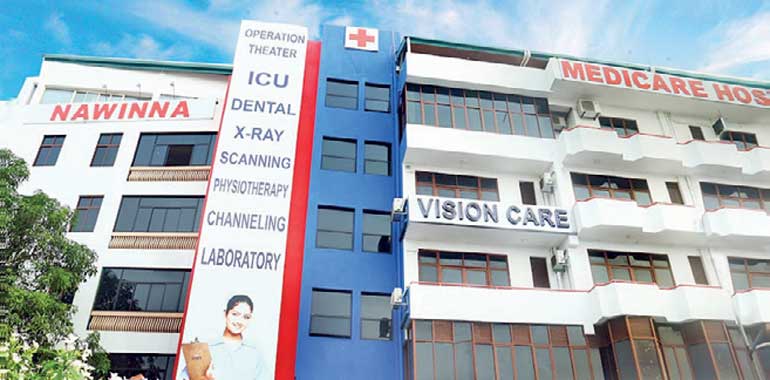 Nawinna Medicare Hospital Ltd. in Maharagama which is equipped with state of the art medical services of international standard opened their unit for Ayurvedic medical services recently. This inauguration can be interpreted as a special movement where Western medicine and Eastern Ayurvedic medical practices have converged into a single scientific blend. This is a precious opportunity for everyone who wishes to be treated in both ways with sufficient awareness and advices of the doctors.

Ayurveda Medical Unit established at Nawinna Medicare, Maharagama renders a valuable space for the patients to experience the treatment of the professional doctors, Dr. Sudath Alahakoon (BAMS-University of Colombo) and Dr. Subodha Gurusinghe (BAMS-University of Colombo), the experts of the field who have shouldered to substantiate a super model of Ayurvedic service in Embilipitiya. As these medications are based on a scientific medical synthesis, the patients do not have to get blinded so that their long-lasting well-being is well-assured. The OPD of Nawinna Medicare Ayurvedic Unit is open from 4:30 p.m. to 7:30 p.m. on weekdays and from 9 a.m. to 12 p.m. on Sundays. Nawinna Medicare Hospital which is found in between Maharagama and Nugegoda on the High-Level road is prepared to execute a high-quality service which is an admixture of the ancient scientific Ayurvedic methods and the most modern methodologies of Ayurveda. The patients can receive the Ayurvedic drugs manufactured in Sri Lanka and the latest Ayurvedic drugs of the world at a highly fair charge which is a specialty.

This new Ayurvedic Unit is a commendable effort taken by Nawinna Medicare Hospital Ltd. to expand the Sri Lankan medical sector through the facilitation of the availability of appropriate methods of treatment engineered with the noble power of Ayurveda.