Well known healthcare brand and specialist in pharmaceutical retailing Harcourts is celebrating 20 years of success this year. Here its founder and Chairman, Ahamed Rheyas, recounts the origins of the Group, successes and challenges over two decades, and future plans.
Twenty nine years ago, in one man's dream, on 1 January, Harcourts bud was born in a one room set-up. Thus the monopoly of importing, marketing and distribution of medicinal drugs in the island, enjoyed by multinationals and a few local giants who paid scant respect to the average patient's economic hardship, was challenged under the theme 'quality drugs at affordable prices'.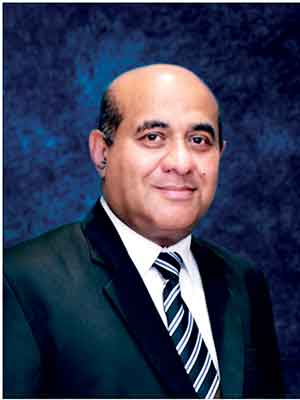 Backed by a decade's experience and know-how, coupled with the tag, 'one of the largest pharmaceutical importers' dangling before our credentials, we ventured into a hitherto forbidden territory. Retailing was considered 'unethical' within the industry; all big players were keen to enter but were hesitant, being shy and cautious. We braved the pessimism and broke the shackles as we moved from Ratmalana to Station Road, Dehiwala in 1998; and took the lead and initiative to open the island's first ever pharmacy under the care and guidance of a team of pharma industry experts and managed by a qualified staff. Harcourts Pharmacy received the blessings of a large faction of medical consultants and GPs who valued the move as a step forward which assisted their profession immensely.

Should we boast in terms of monetary benefits? No, let's acknowledge that a host of big names in the industry, as we opened the floodgates, followed suit too. Those who discover how to recognise opportunities and be creative will move ahead. Today I'm happy to witness the blooming of the largest retail pharmacy chain in the island. I am simply observant on the task at hand. Professional pharmacy service is an action undertaken by Harcourts Pharmacy, delivered by a pharmacist, who applies specialised health knowledge personally with a patient. We have an aim to improve health and the value of healthcare - pharmaceutical services provided by our pharmacists are particularly focused on drug safety, effectiveness and health outcomes.

While responsibilities differ among the different areas of pharmacy performance, the bottom line is that pharmacists help outpatients get well. Their responsibilities include a range of care for patients, from administration of medications to monitoring patient wellbeing and progress to optimise their reaction to medication therapies. Pharmacists also educate patients on the use of prescriptions and over-the-counter medications. They also provide knowledge about the composition of drugs, as well as their chemical, organic, and physical properties and their make and use. They guarantee drug purity and potency and ensure that drugs do not interact in a harmful way. Our purpose is to help our clientele appear and feel better than they ever considered possible.

The principal objective of pharmaceutical care is to attain positive results from the use of drugs which progress patients' quality of life with the least amount of risk. Harcourts pharmacies are offering a range of services, including home delivery and supermarket-style shopping.

Within a short time after it was formed, the chain has revolutionised the market in pharmaceutical retailing, opening many outlets in cities with shops on the best spots and streets. More than merely setting up a pharmacy right near the competition, I think they should look for localities where they can find the clients they are targeting.

Undertaking total restructuring of the selling strategy, normalising discount rates, establishing new promotions, creating a bonus system that offers the customer special discount rates depending on the total order value, we introduced a discount card for loyal customers - another first - in the third year of operations, which was later developed to three categories of Silver, Gold and Platinum, attracting a loyal customer base from different social strata.

We have in the pipeline plans to open 20 more pharmacies in many parts in the future and will continue to stay as the largest pharmaceutical retail network, with added services in the form of district-wise wholesale distribution centres catering to more than 2500 pharmacies, health centres, hospitals and doctors island-wide. The chain will also be the nation's largest purchaser of medicinal drugs that can claim to have an unparalleled supply chain, a unique platform for expansion in the island's emerging markets. We spearheaded many ESR activities through the numerous free medical camps, health check-up facilities and epidemic control programs periodically.

For a patient, one of the most frustrating things he can experience is to learn that a particular drug he needs and regularly used has been out of production, or that he is no longer able to find it. This doesn't imply that he loses health benefits that it provides. Our well trained pharmacists are proficient in providing access to hard-to-find medications, since they can personally reproduce the prescription to ensure that the patient continue to receive the all important care that he requires. Our mission is to be the first choice for pharmacy healthcare - caring for people and communities in all parts of the country.

India's largest pharmacy network Apollo Pharmacy boasts over 720 outlets in 17 states. Apollo is open for 24 hours. Boots is the UK's leading pharmacy retailer with over 2,000 outlets in the country, ranging from medicine to health and beauty stores. Understanding the value of chain effect in retailing medicinal drugs, the US pharmacy chain giant Walgreens have invested billions of dollars buying nearly half of the shares in European giant Boots, in a proposed deal for creating the first global pharmacy-led health and wellbeing enterprise.

In the near future, at Harcourts we propose to issue free health insurance on purchases of above a specified annual figure, making them replicas of similar chains of international repute to proclaim Harcourts identity more than any other image building process. Introduction of online ordering system and engineering a paradigm shift in the industry by establishing a unique concept of 'Harcourts Pharmacy Super' multi-service outlets in selected major towns to operate 24 hours is the theme of our anniversary.

The 20th anniversary is an opportunity to reinforce relationships with stakeholders and win new patrons. I thank our loyal customers, and my staff numbering over 300 for their commitment, loyalty, uncompromising integrity and morality in bringing quality revolution in the concept of drug retailing in Sri Lanka.