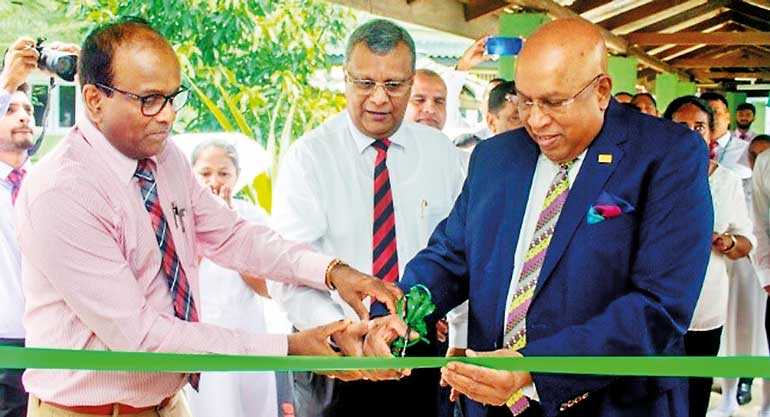 From left: Kiribathgoda Base Hospital Medical Superintendent Dr. K.T. Nihal Peiris, Mabroc Teas Managing Director Niran Ranatunga and Hayleys Chairman and Chief Executive Mohan Pandithage at the opening ceremony of the Men's Ward at the Kiribathgoda Base Hospital
---
Invests Rs. 2.53 m in critical refurbishments at Men's Ward
Provides upgraded medical equipment and beds
Refurbishes beds, furniture and toilet facilities
Iconic Sri Lankan diversified conglomerate Hayleys PLC's leading tea export brand, Mabroc Teas, announced the recent completion of the refurbishment of the Men's Ward at the Kiribathgoda Base Hospital.
Facilitated through an investment of Rs. 2.53 million, the refurbishment project was focused on enhancing comfort and health for patients at the ward through several improvements made to the facilities and infrastructure.

These included the replacement or upgrading of essential medical equipment, together with a total renovation of beds, furniture, and other essentials in order to provide a pleasant, healthy, and clean environment for patients.

In addition to the main ward facilities, the Mabroc team also oversaw the further construction of a separate lunch room for patients to enjoy their daily meals while further repairs and refurbishments were carried out on the bathroom facilities at the ward as well.

"As the only major healthcare provider situated on the Kandy Road between Colombo and Warakapola, this facility is of tremendous importance to thousands of Sri Lankans. We simply wanted to do our part to support the incredible team at the Kiribathgoda Base Hospital in their mission to extend vital and life-saving healthcare to Sri Lankans from all walks of life

"When we first commenced this project there were a great deal of issues we had identified which needed immediate attention. With the support of the Hayleys Group and the entire team at Mabroc, we were successful in enhancing the ambience of the ward, and establishing a space that is more conducive to healing," Mabroc Teas Ltd. Managing Director Niran Ranatunga said.

Mabroc Teas Ltd. is one of Sri Lanka`s leading tea exporters supplying a wide range of teas to the global markets. Serving as exporters of the finest teas produced by the Hayleys Plantation sector – comprised of Kelani Valley Plantations PLC (KVPL) and Talawakelle Tea Estates PLC (TTEL). The company was also the first tea brand in Sri Lanka to become a signatory to the United Nations Global Compact. Available in over 40 countries in the world, Mabroc has a diverse product portfolio of 140 products.

Established in 1878 by Chas. P. Hayley as a trading house in Galle specialising in import and export, the Hayleys Group has since grown to serve as a centrepiece of the Sri Lankan economy while maintaining a global presence of manufacturing and marketing offices across five regions with business interests spanning a total of 16 sectors. Today it stands out as one of Sri Lanka's most prominent success stories, having been the first listed Sri Lankan corporate to surpass $ 1 billion in revenue and accounting for 3.3% of the nation's total export earnings.