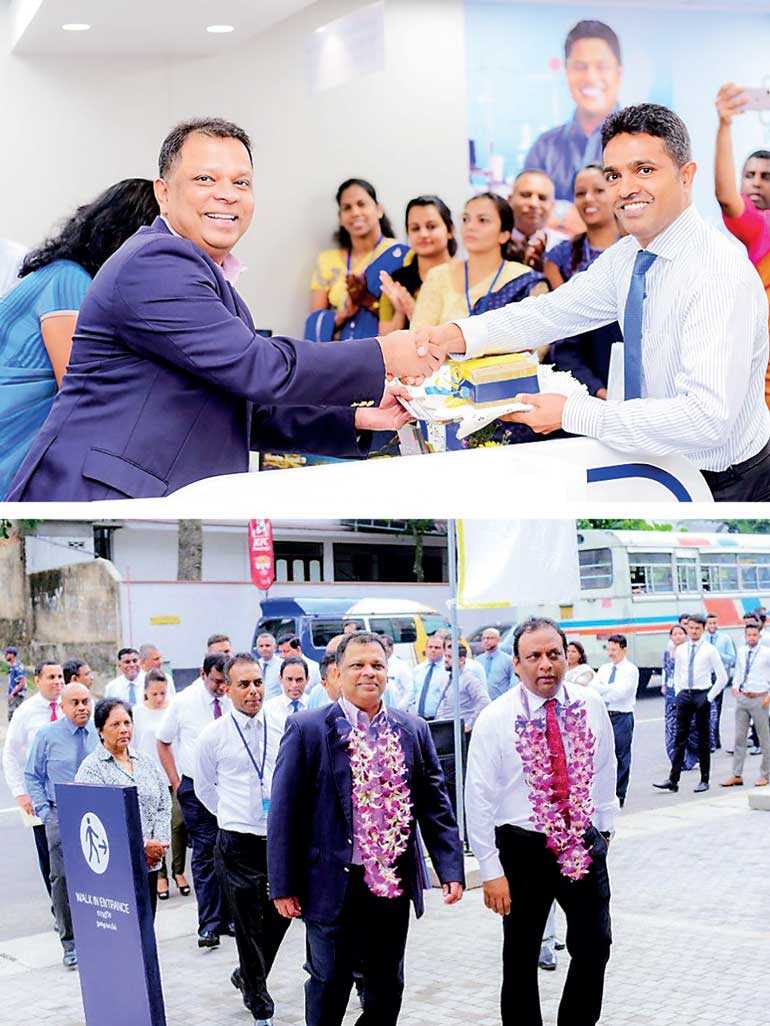 ---
Delivering an unprecedented new level of banking convenience to patients, visitors, and employees, Sri Lanka's largest private sector bank HNB PLC, in partnership with the Softlogic Group's healthcare arm Asiri Health, opened its newest fully-fledged customer centre at Asiri Hospital, Kandy.

Offering a comprehensive list of banking products and services to medical practitioners, hospital staff and all visitors to the hospital, the new customer centre will be open for business seven days a week – from 9.00 a.m to 3.00 p.m on weekdays and 9.00 a.m to 12.00 p.m on weekends – operated under the supervision of HNB's Kandy Customer Centre.

Notably, the opening of the new customer centre will enable parents of newborn children at Asiri Kandy to better take advantage of HNB's exclusive offer for Singithi Kirikatiyo account holders. HNB has offered to match all new deposits of up to a maximum of Rs. 1,000 at a higher than average interest rate of 7% per annum, in addition to a host of other valuable gifts, thereby inculcating and rewarding the savings habit from a child's formative years onwards.

HNB Singithi Kirikatiyo is among the country's most iconic children's savings products, having now served generations of Sri Lankans. The account represents the first phase in a series of branded savings products for minors that are designed to make the savings habit as rewarding and exciting as possible.

The customer centre was jointly inaugurated by HNB Managing Director and CEO Jonathan Alles, HNB Head of Network Management Vinodh Fernando, Asiri Group Director Operations Nihal Rathnayake, Asiri Hospitals Chief Financial Officer Ajith Karunaratne, Asiri Hospital Kandy General Manager Nalin Pasqual and Asiri Hospital Kandy Medical Director Dr. Uthpala Malawaraarachchi.

Addressing the gathering, HNB Managing Director and CEO Alles said: "At an organisational level, we take great pride in HNB's ability to clearly differentiate itself from the competition through our service offering in order to provide an unmatched level of customer convenience.

"Our superior service delivery is an integral part of HNB's strategy to leverage technology to bring our bank closer to our customers, instead of them having to sit through traffic and get to a customer centre to carry out their banking. While our newest customer centre at Asiri Hospital may be small in its physical size, it is packed with the same powerful modern functionality that is driving a new wave of growth for HNB. In that regard, we wish to express our gratitude to the Softlogic Group and Asiri Health for their vital support in establishing our new branch which we are confident will serve the needs and urgent requirements of our esteemed customers."

The inauguration function was also attended by other dignitaries, including high-level officials from both the bank and the hospital as well as consultant medical practitioners. With this opening, HNB's distribution network now stands at 251 customer centres, in addition to a comprehensive island-ATM network.

We are very happy to have HNB as our official banking partner", said Asiri Hospital Kandy, General Manager, Nalin Pasqual "Already home to some of the most experienced and qualified staff and specialist consultants in the region, Asiri Hospital Kandy looks after the healthcare needs of hundreds of patients each day, and we have seen an urgent need for the development of banking services to support our patients. This timely partnership with HNB, which is one of Sri Lanka's largest and most respected private commercial banks, therefore represents another significant value addition for Asiri Hospital Kandy," he noted.

Operating across 251 customer centres across the country, HNB is one of Sri Lanka's largest and most innovative banks, having won recognition from numerous international and local institutions for its achievement of excellence in diverse fields. HNB was also the first Sri Lankan bank to obtain an international credit rating and was assigned a foreign currency issuer rating of B1 on par with the sovereign rating by Moody's Investors Service, while it has a national long term rating of AA- (lka) by Fitch Ratings (Lanka) Ltd.